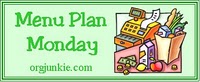 My kids head back to school this week!  Football season has also  started for us, which means that my son has football price for almost 2 hours three nights a week.  My daughter also has swimming practice 4 nights a week for an hour, so it's some crazy times around our house! Since it's 100 degrees outside, we don't want "heavy" dinners, and I don't want to wait until after practice and feed my kids at 9 pm either, so here are some quick fixes for busy nights!
Looking for Advocare 24 Day Challenge recipes?  Check them out here:
See my menu plans from previous weeks here–> Menu Planning Monday
You can also view hundreds of meal plans each week at Orgjunkie.com
Do you like what you see here?  Make sure you also check out my favorite recipes board on Pinterest–> Melissa's Bargains favorite recipes on Pinterest
SUNDAY:  Lasagne – The night before school starts, our tradition is to have a "Back to School Dinner"  The kids pick out a favorite meal and we talk about goals for the upcoming school year.  This week it was lasagne!
MONDAY:  Slow Cooker Cream Cheese Chicken – I love this recipe because I can dump all of the ingredients in the crockpot and it does all the work.  Plus, the sauce is SOO yummy that you'll want to lick your plate clean!
TUESDAY:  Chicken Quesadillas – My son has football for 2 hours on Tuesday nights and my daughter has swimming for an hour.  I try to plan quick and easy recipes that will get them fed, but won't weigh them down.  This is a great way to use up leftover chicken meat, too!
WEDNESDAY:  Slow Cooker Pulled Pork Burritos – One of these days, I will actually get this recipe written up, but it's seriously SO EASY!  I throw a pork roast in the crockpot with a can of red enchilada sauce (the smaller size) and some taco seasoning!  I cook on low for 6-8 hours, shred the meat, and add beans and other taco "fixings"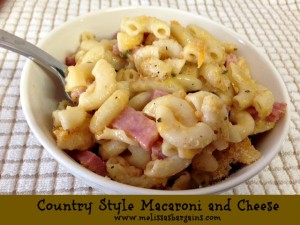 THURSDAY:  Country Style Macaroni & Cheese – Almost as easy as making it from a box and my kids LOVE it!
FRIDAY:  Tasty Baked Tacos  – This is one of my favorite Friday "go to" recipes because it requires minimal effort!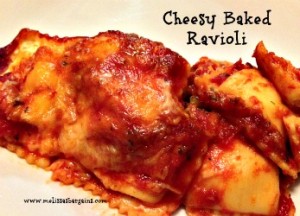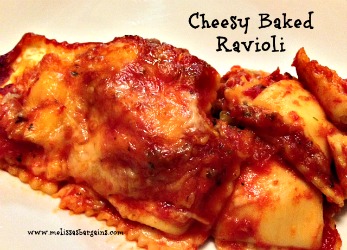 SATURDAY: Cheesy Baked Ravioli – Another easy, budget friendly recipe!