*This post contains affiliate links and I will be compensated if you make a purchase.  Refer to my disclosure policy for more information.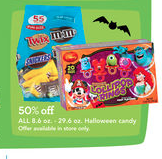 Are you ready to stock up on Halloween candy?  It's 50% off at Toys 'R Us this week!  You should be able to score some AWESOME deals plus there are coupons to match up with the sale!
Make sure you print these coupons to get the best prices: remember you can print 2 per computer!
$1/2 Mars Halloween Fun Size Bags
$1.10/2 Hershey's Snack Size Bags
$1.60/2 Jolly Ranchers or Twizzlers Snack Size Bags
What is YOUR favorite Halloween candy?