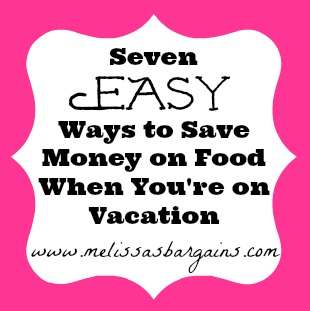 When you go on vacation, the money you spend on eating out can easily blow your entire food budget!  Here's a round up of easy ways to save money on food when you're on vacation!
Make sure you also check out these posts for tips on how to save on a vacation:
1.  Bring your own food – When we went to Disney World last summer, we had a meal plan that included one quick service and one table service meal.  We had a refrigerator in our room and we drove, so we opted to take our own breakfast foods (cereal, Nutrigrain bars, Pop Tarts, etc.) and we ate breakfast in our room every morning.  We also take our own snacks and drinks.  Have you seen the price for a soda in a hotel vending machine?  They are usually $2-3 each and you can get a 12 pack for that price before you leave!  Don't forget to pack a cooler for your road trip!  Stop at a park or rest stop along the way and have a picnic!
2.  Look for hotels that have free dining options or a kitchen!  Whenever possible, we try to choose a place to stay that at least offers a free breakfast.  Some hotels also offer snacks in the afternoons and even appetizers and drinks in the evening!  Some extended stay hotels have kitchens.  Buy your own food and cook while you're there!
3.  Use coupons – Sign up for the newsletters with your favorite restaurants and fast food chains so you can get their coupons when they offer them.  I often receive coupons for free kids meals, BOGO free adult entrees, and free appetizers by doing this!  Make sure you sign up for Ibotta, too!  It's a Smartphone app that lets you earn cash back at restaurants like Chili's, Quiznos, and Smashburger!  Register here–> Ibotta Registration (you'll get a $2 bonus just for signing up)
4.  Use gift cards – Even when we are not on vacation, we rarely eat out if we don't have a coupon or a gift card.  I earn gift cards from various survey sites and cash out when I know we're going on a trip!  I also earn restaurant gift cards through my credit card rewards program.
Here are some sites I use to earn gift cards:
5.  Check out Restaurant.com – Restaurant.com frequently has promotions where you can get a $25 gift card for just $5!  They have restaurant locations in many cities.  You can view menus and even read reviews!  Make sure you read the fine print on their gift card offers before purchasing because they sometimes have exclusions (such as lunch or dinner only) or minimum purchase requirememnts.
6.  Timing is everything!  The time of day that you choose to dine can help to greatly reduce expenses. For example, most restaurants offer a "lunch menu" and you can typically order from that menu until 4 p.m. If you go to eat just a little bit earlier, you can beat the crowds and still take advantage of less expensive dining options. On that same note, some restaurants offer "happy hour" specials (these are typically served between 4 p.m. and 6 p.m.). Happy hour specials often include half price menu items.  Many restaurants also offer "kids eat free" nights. Typically, "kids eat free" nights are on Mondays, Tuesdays, and Wednesdays, and choosing to take advantage of this offer can save you $4 to $6 per child.
7.  Skip the extras and watch what you eat! Consider ordering a larger meal portion and then splitting it with someone else. You can ask for an extra plate and you can typically add extra side items such as vegetables or a salad a la carte. If you order water instead of beverages you can also typically save an additional $2 per person. Skip dessert at the restaurant and grab ice cream on the way home instead. If you do opt to have dessert there, share it with someone else.
How do you save on money on food when you're on vacation?