This is a sponsored post written by me on behalf of Buca di Beppo®. All opinions are 100% mine.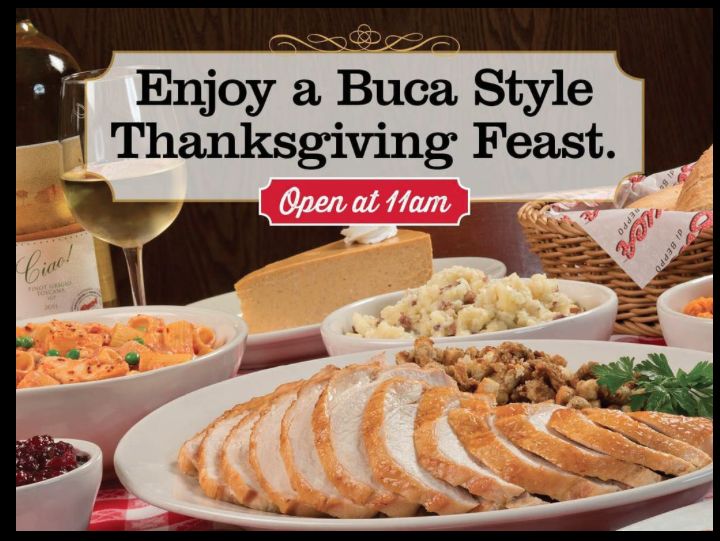 My favorite thing about Thanksgiving is having the opportunity to spend time with family and friends.  I love Thanksgiving dinner, but I never look forward to getting up early, spending hours cooking a big meal, and then having to take time afterward to clean everything up.  This year simplify Thanksgiving with Buca di Beppo!
When you take advantage of the Buca di Beppo Thanksgiving Feast, you'll enjoy classic Thanksgiving favorites such as sliced white meat turkey, hickory smoked ham, roaster garlic mashed potatoes, homestyle gravy, green beans, and cranberry sauce.  You can also enjoy Thanksgiving-themed foods with an Italian twist such as spicy Italian sausage stuffing!  Stuffing is one of my favorite sides and this sounds like a must try item!
When you dine at Buca di Beppo for your Thanksgiving dinner this year, you can also enjoy your all of the regular menu items such as Spaghetti with Meatballs, Baked Rigatoni, Stuffed Shells, and even Lasagna!  If pasta isn't cutting it either, there's always Veal Parmigiana, Chicken Marsala, or Eggplant Parmigiana.  There's always someone who doesn't enjoy turkey who would love something a little different this year!  You can't go wrong with all these options!
The most appealing factor for me is that I don't have to spend time preparing a big meal or washing dishes.  This leaves more time for hanging out and actually enjoying my time with family and more time to shop the holiday sales online, too!
Make your Thanksgiving reservations today!  Locations open at 11 a.m., so you can pick the time that's best for you!  Make your reservations online, and all you have to do is show up hungry! When you dine in, you'll get free pumpkin pie, too!  YUM! (164)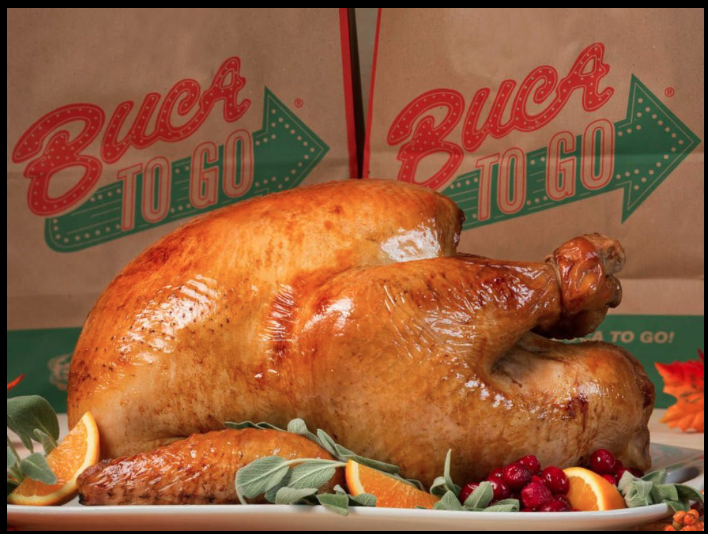 Make this Thanksgiving STRESS FREE and spend it doing the things you love like playing a friendly game of football, watching your favorite teams play football on TV, or participate in a local Turkey Trot.  If you still want to enjoy your Thanksgiving meal at home, but you don't want to deal with cooking, order a Thanksgiving Feast to Go!  It's SUPER EASY to pre-order your Thanksgiving dinner online and many locations offer curbside pick-up, too!  Some locations even have delivery options with a minimum purchase!
Choose from Half Pans (that serve up to 10 people) and Full Pans (that serve up to 20 people).  Customize your menu to include traditional foods like turkey and ham as well as classic sides like mashed potatoes and stuffing, and then add your favorite salads and pastas, too! Prices start at $159.99 for a feast for a family of 10 and having the extra time with your family is priceless!  When you pre-order your meal, don't forget about dessert!  Choose from cookies or brownies, Tiramisu, Cannoli, or traditional pumpkie pie!  My mouth is watering just LOOKING at the menu!
If you choose the Thanksgiving Feast To Go, the only thing you have to worry about is the clean up…and the fact that your pants probably won't fit very well when you're done eating!