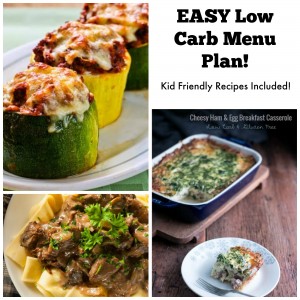 We fell off the low carb wagon over the holidays, but we're ready to get back on track!!!  I have discovered that the key is to involve your kids in the menu planning and to choose some of their favorites.  Here's this week's  Low Carb Menu Plan for Families.
Check out our previous menus below:
Kid Friendly Low Carb Menu Plan Week #1
Kid Friendly Low Carb Menu Plan Week #2
Kid Friendly Low Carb Menu Plan Week #3
Kid Friendly Low Carb Menu Plan Week #4
See my menu plans from previous weeks here–> Menu Planning Monday
You can also view hundreds of meal plans each week at Orgjunkie.com
Do you like what you see here?  Make sure you also check out my favorite recipes board on Pinterest–> Melissa's Bargains favorite recipes on Pinterest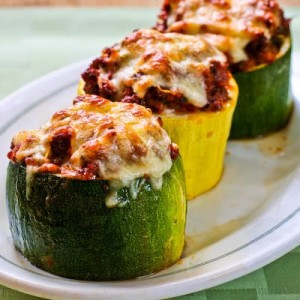 MONDAY:  Mozzarella Stuffed Zucchini Cups – My son is NOT a veggie lover…at ALL!  His main veggie consumption consists of carrot sticks dipped in ranch dip.  When I made this for the first time a few weeks ago, he LOVED it.  He actually raved about how delicious it was and how it was his favorite meal for days.  I was in complete shock.  If you haven't tried out this one from Kalyn's Kitchen yet, you're missing out!
For breakfast, we will also be trying out this Low Carb Ham & Cheese Breakfast casserole!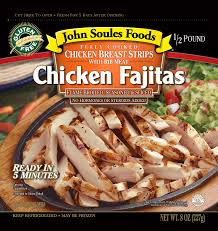 TUESDAY:  Chicken Fajitas – When my son was playing football, Tuesdays were our busiest nights and so they became "Taco Tuesdays" because that was easiest.  To make it even easier, I use these John Soules Chicken Fajita strips (I get mine at Sam's Club, but you can get them at most grocery stores).  The kids eat theirs with low carb tortillas.  I like mine plain with some Herdez green salsa or some homemade guacamole if I have time to make it!
WEDNESDAY:  Low Carb Pepperoni Chicken Bake – One thing I've learned about any sort of diet in my house is that if I want to be successful, I need the ENTIRE family to do what I'm doing.  I don't have time to cook different meals for different people.  That means I have to find recipes that my entire family will enjoy.  This was another favorite!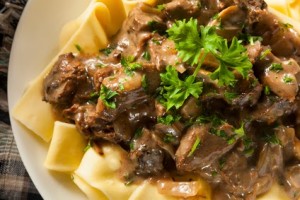 THURSDAY:  Slow Cooker Creamy Beef – Instead of serving this one over pasta, I'll be making cauliflower mashed potatoes with it!
FRIDAY:  Grilled sausage with sauerkraut – It's the end of the week and my son has basketball practice, so it's a double whammy and I knew we would need something quick and easy!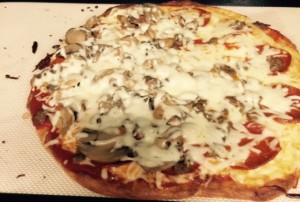 SATURDAY:  Fathead Pizza – I honestly couldn't believe how easy this was to make or how incredibly yummy it is!  One of the things my kids LOVE is pizza.  This has been an absolute LIFESAVER for us!