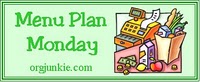 One of these days, I will learn to not put my menu plan for the week at the top of my grocery list.  This week, my daughter was in charge of the grocery list while we were out shopping and by the time we got home, it had vanished into thin hair!  So, I'm re-creating my menu as best I can from memory.
The plan listed here just includes our dinner menu and recipes. I have calculated Weight Watchers points values using the e-tools Recipe Builder, and points values this week are based on the new Points Plus program!
If you've been reading my blog for awhile, then you know that for the past two years, I have done a $40 weekly budget. With the changes to our eating habits, I'm going to increase our budget to $50 per week, and I'm really going to try to stick to that, but I'm not even sure that will be enough. This will be a trial and error experience, so stay tuned!
If you're new to menu planning or would like tips for getting started, check out this post here.  Make sure you check out my HUGE 4K fan giveaway on Facebook:  we've got tons of great prizes including Amazon, Target, Disney, Restaurant.com and Starbucks gift cards PLUS super cute products, too! (there are over 50 items!)
SUNDAY: French dip sandwiches (slow cooker) – This is a family favorite and I love it because it is SOOO easy to make!
Ingredients:
beef roast
2 cans beef broth
1 tsp dried rosemary
1 tsp dried thyme
1 tsp garlic powder
4-6 hoagie buns
(we also add some swiss or provolone cheese)
Place roast in a greased slow cooker. Pour broth over the top of the roast. Add spices. Cover and cook on low heat 8-10 hours (or high heat 5-7 hours). Remove roast and save extra juice. With a fork, break the meat apart and serve on hoagies. Use excess juice for dipping sandwiches.
WW points = 7 points per serving (this does not include the cheese or the buns, add 2 points for the cheese and 4 points for the whole wheat bun)
MONDAY: Monterey Chicken – This recipe is so yummy and so easy!
Ingredients:
4 (5 oz.) Boneless Skinless Chicken Breasts1/4 Cup Barbecue Sauce
1/4 Cup Hormel Real Bacon Bits
1 Cup 2% Colby and Monterey Jack Shredded Cheese*
1 (14 oz.) Can Diced Tomatoes with Green Chilies, drained (I'm just going to use regular diced tomatoes)
Sliced Green Onions
Pepper
Preheat oven to 400 degrees. Pound out the chicken breasts to flatten. Season each with a little pepper. Cook the chicken in a skillet sprayed with non-stick cooking spray over medium-low heat until no longer pink.
Place each breast onto a baking sheet and top each breast with 1 tablespoon of barbeque sauce, 1/4 cup cheese, 1/4 cup tomatoes, green onions and 1 tablespoon of bacon bits. Place into the oven and bake until the cheese has melted (about 5 minutes).
Per Serving: 263 Calories; 8g Fat (29.0% calories from fat); 39g Protein; 6g Carbohydrate; 1g Dietary Fiber; 108mg Cholesterol; 840mg Sodium. Exchanges: 4 1/2 Lean Meat; 0 Other Carbohydrates.
WW points = 6 points per serving
TUESDAY: Peppered steak – this is a family recipe that came from my mother in law
Ingredients:
3 cups hot cooked rice
1 lb lean beef round steak (cut into 1/2 inch thick strips)
1 T Paprika
2 T butter
2 cloves garlic, crushed
1 1/2 c. beef broth
1 cup sliced green onions
2 green peppers, cut in strips
2T cornstarch
1/4 c. water
1/4 c. soy sauce
2 lg tomatoes (cut in eighths)
Pound steak to 1/4 inch thick. Cut into 1/4 inch wide strips. Sprinkle meat with paprika. Let stand. Brown meat in butter. Add garlic and brother. Cover and simmer for 30 minutes. Stir in onions and green peppers. Cover and cook 5 minutes. Blend cornstarch, water and soy sauce. Stir into meat mixture. Cook, stirring until clear and thickened, about 2 minutes. Add tomatoes and stir gently. Serve over beds of fluffy rice.
WW points = 7 points/serving  (add an additional 3 points for 1/2 cup rice and 5 points for 1 cup rice), this makes 4 servings.
WEDNESDAY: Country Ham and Macaroni Casserole – My family makes me laugh because when I ask for their input into menu planning, this is always their first pick.  I think I could make this every week and they would be totally content!
Thanks to Sandy~Bettyinthekitchen (BabyCenter.com Cooking for Your Family Board)
Ingredients:
1 lb country ham slices or regular smoked ham in one piece (I just use whatever leftover ham we have on hand)
1 large onion, diced
1 lb elbow macaroni (whole wheat)
2 cups shredded extra sharp cheddar cheese (8 oz) – I use reduced fat
1 cup sour cream (I use reduced fat)
1 can cream of chicken soup (I use 98% fat free)
1/4 cup (1/2 stick) margarine, melted (I don't use this when I make it)
1 cup dry plain bread crumbs
1. Heat oven to 400º.
2. Bring 4 quarts water and ham to boiling in large pot. Once water begins to boil,
remove ham to a plate. Add onion and macaroni to pot. Return water to boiling; cook 8 minutes, stirring occasionally.
3. Coarsely chop ham, discarding any fat and bones.
4. Drain macaroni and onion and return to pot. Add ham, cheese, sour cream and soup. Scrape into a 13x9x2 baking dish. Pour melted margarine over top. Sprinkle with bread crumbs.
5. Bake in heated 400º oven 30 minutes or until heated through and top is golden brown.
Let stand 5 minutes before serving.
Note: Prepare in two 8×8 casserole dishes, bake one and freeze one (unbaked) for another day. If freezing, top with crumbs and margarine right before baking.
WW points = 9 points per serving (with modifications above), makes 6 servings
Sides:  sliced cantaloupe and green salad
THURSDAY: Black bean and chicken burritos (slow cooker) – This is another family favorite that is SUPER easy to make!  Our Thursday nights are INSANE (I go straight from work to ballet and then to soccer practice), so this is an easy recipe that can cook all day and it's ready to serve (all you have to do is shred the chicken) when you get home!
Ingredients:
1 taco/fajita seasoning packet
2 cans black beans, drained
2-3 chicken breasts
1 can green enchilada sauce
Place chicken breasts in bottom of the crockpot and then add remaining ingredients. Cook on low 6-8 hours. Shred chicken before serving and serve in tortillas. We add cheese, sour cream, etc. to the tortillas. We sometimes add rice (cooked rice to the mixture once we're ready to serve, not in the crockpot!). This is also really good if you use beef instead of the chicken!

WW points = 6 points Per serving (does not include the tortillas)
FRIDAY: Pineapple teriyaki pork chops – I snagged this recipe from Brittany at Frugal in Fargo's meal plan last week!  It looks yummy and it's totally WW friendly!
Makes 4 servings
Olive oil in a sprayer (not store-bought spray that contains propellant)
4 (4-ounce) trimmed boneless pork loin chops (3 1/2-4 1/2-ounce chops are OK), about 3/4″ thick
1 teaspoon garlic powder
Salt, to taste
Ground black pepper, to taste
8 teaspoons honey teriyaki marinade and sauce (such as Ken's Steak House Marinade and Sauce)
4 slices canned pineapple slices in juice, drained
Preheat the broiler.  Line a small baking sheet with aluminum foil and lightly spray the foil with olive oil.  Lightly mist both sides of the chops with olive oil and season with the garlic powder, salt, and pepper. Place the chops, not touching, on the prepared baking sheet and broil about 3″ from the heat for about 2 minutes (be sure to leave the oven door open a crack when broiling).  Turn the chops and brush or spread 2 teaspoons of the teriyaki marinade evenly over the top of each. Top with pineapple slices.  Broil for 3 to 5 minutes longer, or until the pineapple and glaze brown lightly and the pork is barely pink inside. Serve immediately.
Nutrition at a Glance
Per serving: 199 calories, 26 g protein, 13 g carbohydrates, 5 g fat (1 g saturated), 75 mg cholesterol
WW points = 5!
SATURDAY: Date night! My hubby and I get to have a date night tonight – hooray!

*This post may contain affiliate links. Please refer to my disclosure policy for more information.