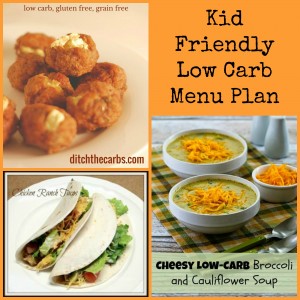 We survived our first week on a low carb menu.  I have discovered that the key is to involve your kids in the menu planning and to choose some of their favorites.  When I asked my kids how they thought our first week went, they said they thought it went great!  When I asked them if there were any recipes they actually hated, they said no!  This is a HUGE bonus considering that my son is a picky eater!  Here's this week's round up of Kid Friendly Low Carb Recipes.
ee my menu plans from previous weeks here–> Menu Planning Monday
You can also view hundreds of meal plans each week at Orgjunkie.com
Do you like what you see here?  Make sure you also check out my favorite recipes board on Pinterest–> Melissa's Bargains favorite recipes on Pinterest
SUNDAY:  Crock Pot Roast – This was a super easy roast recipe that I will have for you soon and I even tried my hand at making low carb mashed cauliflower.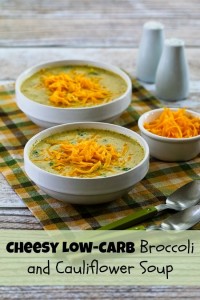 MONDAY:  Cheesy Low Carb Broccoli and Cauliflower Soup – Broccoli cheese soup is a favorite and I was excited to find this recipe on Kalyn's Kitchen!  I can't wait to try it out.  We'll be making some Low Carb Oopsie bread to go with it.  This morning, we're trying out Low Carb Cream Cheese pancakes for breakfast, too!
TUESDAY:  Fajitas with homemade guacamole – It's a football and swimming night, so we need a quick fix meal.  I buy the pre seasoned fajita meat and cook it on my Lodge Cast Iron Grill pan!  I bought low carb tortillas last week, but we actually loved eating the fajitas with the veggies, guacamole, and sour cream and no tortillas!
WEDNESDAY:  Low Carb Cream Cheese Stuffed Meatballs – How can you go wrong with meatballs stuffed with cream cheese?  This recipe from Ditch the Carbs looks amazing!
THURSDAY:  Sauerkraut & sausage – it's another busy night with football and swimming, so we'll be having sauerkraut and beef kielbasa sausage.
FRIDAY:  Low Carb Pepperoni Pizza Chicken Bake – I am LOVING the recipes I'm finding on Kalyn's Kitchen.  She's got stuff that's totally kid friendly and right in sync with what my family loves!  In honor of the end of a week, I'm also going to try out this recipe for flourless brownies!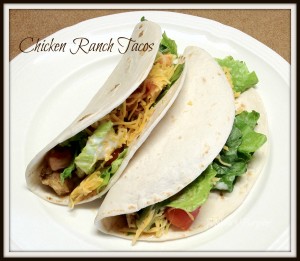 SATURDAY:  Chicken Taco Salad – Tonight I'm going to use my Slow Cooker Chicken Ranch Tacos recipe to make chicken taco salad!