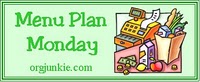 I was at a blogging conference in Atlanta for four days last week.  I learned lots of great stuff, but I'm ready to get back to my family and to meal planning!  I'm trying several new recipes this week and most of the recipes can be made in your slow cooker!
If you're new to menu planning or would like tips for getting started, check out this post here–> Tips for menu planning
You can also view hundreds of meal plans each week at Orgjunkie.com
SUNDAY – Slow cooker chili  – It doesn't get any easier than this dump and go recipe!
Ingredients:
1 lb ground beef (brown in skillet and then place in crockpot)
1 can dark kidney beans (drained and rinsed)
1 can Ranch style beans
1 can diced tomatoes
1 can crushed tomatoes
1 packet chili spices
Mix all ingredients in crockpot and cook on high for 5 hours or low for 8 hours. Sprinkle cheese on top.
MONDAY – Slow Cooker London Broil – I found this recipe on Allrecipes.  I plan on changing it up some by using Golden Mushroom soup instead of Cream of Mushroom soup and adding some additional seasonings.  I will let you know how it goes!
TUESDAY:  Slow Cooker Chile Colorado burritos – I discovered this recipe on Pinterest and it has become a family favorite.  I could make it once a week and no one would complain!
WEDNESDAY:  Ranch House Crock Pot Pork Chops with Parmesan Mashed potatoes – My kids have really been loving pork chops lately, so I've been looking for new recipes to try!  This one comes from Picky Palate.  As an added bonus, you can make it in the crock pot!
THURSDAY:  Hobo Stew (slow cooker) – This is another new recipe for us. I 'm always on the hunt for new recipes I can make in the slow cooker.  I plan on using frozen meatballs for this one to save time and I have a few other variations in mind that I'll share when I do my recipe review!
FRIDAY:  BBQ chicken
SATURDAY:  Avocado Cilantro Lime enchiladas – I am a sucker for enchiladas and love trying new recipes.  I can't wait to try the avocado sauce on this one!  I plan on making my own "filling"
Looking for more quick fix menu ideas? Sign up for Ready, Set, Eat by clicking on the image below! It's completely free and you'll get recipe ideas delivered to you by e-mail!
*This post may contain affiliate links. Please refer to my disclosure policy for more information.