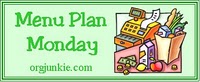 I've had a lot of fun lately looking for new recipes to experiment with.  Our menu plan this week includes some old favorites that we haven't had in awhile as well as some new recipes that I think are perfect for fall!  I can't wait to try them out and to share my reviews with you!
If you're new to menu planning or would like tips for getting started, check out this post here–> Tips for menu planning
You can also view hundreds of meal plans each week at Orgjunkie.com
SUNDAY:  Slow cooker chili  – My original plan for today was slow cooker lasagne, but I realized I forgot to buy lasagne noodles on Saturday when I went grocery shopping, so this was a quick and easy alternative!  It doesn't get any easier than this dump and go recipe!
Ingredients:
1 lb ground beef (brown in skillet and then place in crockpot)
1 can dark kidney beans (drained and rinsed)
1 can Ranch style beans
1 can diced tomatoes
1 can crushed tomatoes
1 packet chili spices
Mix all ingredients in crockpot and cook on high for 5 hours or low for 8 hours. Sprinkle cheese on top.
MONDAY:  Crockpot chicken and rice – I came up with this recipe after experimenting a bit and couldn't come up with a more original name.  It's yummy and easy to make!
Ingredients:
2-3 frozen chicken breasts
1 pkg McCormick Zesty Herb chicken seasoning blend (sometimes I substitute the Good Seasonings Italian dressing blend if I have it on hand)
1 can cream of chicken soup
2 c. hot cooked rice
Grated cheese
Tomatoes
Celery
Bell peppers
Place frozen chicken breasts in the bottom of the crockpot. Mix ingredients for McCormick seasoning according to directions on the packet and pour over the top of chicken. Cook on low for five hours. Shred chicken in crock pot using a knife and fork. Add cream of chicken soup. Let cook for one more hour. Service over rice with additional toppings as desired (we add cheese, celery, tomatoes, bell peppers, etc. depending on what we have on hand).
TUESDAY:  Easy enchirito – This recipe was originally posted on Blessed with Grace.  It's been awhile since we've had it, but it's easy to make and very yummy!
Ingredients:
* 1 package burrito-sized flour tortillas
* 1 package burrito OR taco seasoning (OR your best homemade version)
* 1 lb lean hamburger meat
* 1 can re-fried beans (I used fat-free.)
* 1 15 oz can Enchilada sauce (I only used 3/4 of this can.)
* 2 cups shredded cheddar (I used Mexican blend)
* 4-5 green onions, chopped
Directions:
Preheat oven 350. Prepare 9×13 casserole dish with non-stick spray.
1. Brown hamburger meat and season, per package instructions, with the burrito seasoning packet.
2. Make one burrito by spreading re-fried beans on one tortilla. Then layer with the seasoned hamburger meat and a small portion of cheddar cheese. Wrap the burrito and place in casserole dish.
3. Repeat step 2 until the casserole dish is full.
4. Pour enough enchilada sauce to completely cover the burritos.
5. Add a layer of cheddar cheese.
6. Finally, top with chopped green onion.
7. Cook at 350 for 30 minutes.
WEDNESDAY:  
Rice meatballs
 – This is favorite family recipe that I got from my mother-in-law.Ingredients:
1 cup uncooked minute rice
1 lb ground beef (I use 93/7)
1 egg, slightly beaten
2 t. grated onion
2 t. salt (I cut this in half)
1/8 t marjoram
dash pepper
2 1/2 cups tomato juice (or two 8 oz cans tomato sauce mixed with 1/2 cup water)
1/2 t sugar
Combine rice and all other ingredients except tomato juice and sugar. Form balls and arrange in skillet. Pour tomato juice & sugar over meatballs. Bring to boil. Reduce heat & simmer uncovered 15 minutes
THURSDAY:  Chicken and stuffing (slow cooker) – This recipe is easy to throw together and super yummy!
Ingredients:
4 to 6 boneless, skinless chicken breasts
1 can 98% fat free cream of chicken soup
1/3 cup milk
1 pkg (6 oz.) chicken-flavored stuffing mix
1 2/3 cups water
Directions: Place chicken in greased slow cooker. In a separate bowl, combine soup and milk, then pour over chicken. Combine stuffing mix and water. Spoon over chicken and soup mixture. Cover and cook on low heat 6-8 hours. Makes 4-6 servings.
FRIDAY:   Turkey Parmesan Meatloaf – My family loves meatloaf (seriously) and I'm always looking for new recipes!  I found this recipe on What's Cookin' Chicago and it sounded yummy, so we're going to give it a try.  We're using ground turkey instead of ground chicken.
SATURDAY:  Cheeseburger Soup – This is a Taste of Home recipe although I'm planning to incorporate some things from other recipes I've found, too.  Stay tuned for my recipe review!
See my menu plans from previous weeks here–> Menu Planning Monday
Looking for more quick fix menu ideas? Sign up for Ready, Set, Eat by clicking on the image below! It's completely free and you'll get recipe ideas delivered to you by e-mail!
*This post may contain affiliate links. Please refer to my disclosure policy for more information.