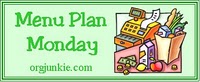 I'm not ashamed to admit that I've had a hard time getting back into a routine of menu planning and finding time to throw meals together before I leave for work in the morning, but I keep trying!  Here's my plan for this week!
If you're new to menu planning or would like tips for getting started, check out this post here–> Tips for menu planning
You can also view hundreds of meal plans each week at Orgjunkie.com
SUNDAY:  Rice meatballs – This is favorite family recipe that I got from my mother-in-law.  It's actually been on our menu for awhile now, but I kept skipping it. It's a quick and easy fix and was perfect for Sunday night!
Ingredients:
1 cup uncooked minute rice
1 lb ground beef (I use 93/7)
1 egg, slightly beaten
2 t. grated onion
2 t. salt (I cut this in half)
1/8 t marjoram
dash pepper
2 1/2 cups tomato juice (or two 8 oz cans tomato sauce mixed with 1/2 cup water)
1/2 t sugar
Combine rice and all other ingredients except tomato juice and sugar. Form balls and arrange in skillet. Pour tomato juice & sugar over meatballs. Bring to boil. Reduce heat & simmer uncovered 15 minutes
MONDAY:  BBQ steak and pasta salad
Pizza pasta salad – I found this recipe on Favorite Family Recipes.  We made it for Memorial Day and it was a hit and so we made it again!
Ingredients:
1 bag colored spiral noodles
¾ c. pepperoni cut into wedges
¾ c. mozzarella cut into small cubes
¾ c. fresh tomatoes, diced
½ c. olives, sliced
¼ c. parmesan cheese
1 bottle Bernstein's Restaurant Recipe Italian Dressing (I'm using Kraft low fat Zesty Italian dressing)
Mix together all ingredients and chill in the fridge for at least 3 hours before serving.
For dessert, I'll be trying this recipe for Lemony Lemon Brownies (I'll let you know how it goes!)
TUESDAY:  Chicken enchilada casserole – This is a recipe that my sister came up with. She uses canned chicken when she makes it. I came up with a little bit of a variation.  It is so easy and kid friendly, too!
Ingredients:
2 chicken breasts (shredded) – or 1 can chicken
1 large can red enchilada sauce
corn tortillas
shredded cheese – I use reduced fat
Directions: (this is what I do) – I put my chicken and the enchilada sauce in the crockpot the night before and then shred it when I get up in the morning. If you are using canned chicken, you can just shred it as you are making the casserole. I spread some of the chicken/sauce mixture along the bottom of the casserole dish so it doesn't stick. Break corn tortillas into four pieces and layer across the bottom of the casserole dish. Spread a layer of the chicken/sauce mixture and cheese. Add another layer of corn tortillas. Continue until you are out of the chicken/sauce mixture. Bake at 350 degrees for 25-30minutes until the cheese is bubbly.
WEDNESDAY:  Chili (slow cooker) – This is super easy to make!  It's so easy that my husband is in charge of dinner tonight!
Ingredients:
1 lb ground beef (brown in skillet and then place in crockpot)
1 can dark kidney beans (drained and rinsed)
1 can Ranch style beans
1 can diced tomatoes
1 can crushed tomatoes
1 packet chili spices
Mix all ingredients in crockpot and cook on high for 5 hours or low for 8 hours. Sprinkle cheese on top.
THURSDAY:  Chicken Lickin' Good Pork Chops
FRIDAY:  It's my birthday, so I'm hoping we'll be eating out tonight and using one of the freebies that came in my inbox this week!
SATURDAY:  Bourbon chicken – Keli shared this recipe awhile back in a Menu Planning Monday post on her blog.  Our family loves it and it's fairly easy to make!
Ingredients:
1 1/2-2 lbs boneless, skinless chicken breasts (cut into bite size pieces)
1-2 T olive oil
1 garlic clove, crushed
1/4 tsp ginger
3/4 tsp crushed red pepper flakes
1/4 c. apple juice (in the comments section on Recipezaar, some people substituted pineapple juice or orange juice)
1/3 c. light brown sugar
2 T ketchup
1 T cider vinegar (in the comments section on Recipezaar, some people substituted balsamic vinger or did half and half)
1/2 c. water
1/3 c. soy sauce
Directions:
Heat oil in a large skillet. Add chicken pieces and cook until lightly browned. Remove chicken. Add remaining ingredients, heating over medium heat until well dissolved. Add chicken and bring to a hard boil. Reduce heat and simmer for 20 minutes. Serve over hot rice.
NOTES: On Recipezaar, some people mixed cornstarch and water and added it at the end to thicken the sauce.
Sides:  steamed broccoli
*This post may contain affiliate links. Please refer to my disclosure policy for more information