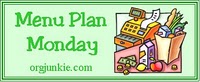 You'll be seeing me post a lot in the next couple of weeks about budgeting and how to get your budget on track.  One of the biggest ways we've been able to cut expenses and stick to our budget is through menu planning!  I work full time and how two school-aged kids who have after school activities almost every day, so we're busy.  These are quick and easy recipes that our whole family loves!
If you're new to menu planning or would like tips for getting started, check out this post here–> Tips for menu planning
You can also view hundreds of meal plans each week at Orgjunkie.com
SUNDAY:  Spinach Chicken wraps  – We are taking a Dave Ramsey Financial Peace University Class on Sunday nights and we don't get home until close to 7, so our dinners have to be quick and easy.  This is one of our favorite "quick fixes"  I buy grilled or breaded chicken strips, a Caesar Salad mix, and spinach tortillas.  We add in some tomatoes and cheese and fill the wraps.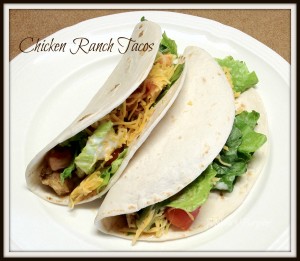 MONDAY:  Chicken ranch tacos – I discovered this recipe on Pinterest a few months ago and since then, we have this at least twice a month.  It's definitely become a family favorite and it's so easy to make!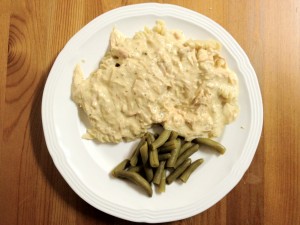 TUESDAY:  Cream cheese chicken (slow cooker) – This was actually on our menu last week, but things didn't quite work out according to plans, so we're having it this week instead!
WEDNESDAY: Beef tips (slow cooker) – I found this recipe in Taste of Home Magazine a few years ago.  It's yummy and easy to make!  We usually serve ours over mashed potatoes instead of noodles.
Ingredients:
1 beef top sirloin steak (1 pound), cut into 1-inch cubes
2 to 3 medium carrots, chopped
1 to 1-1/2 cups chopped celery
1 cup chopped onion
1 can (10-3/4 ounces) condensed golden mushroom soup, undiluted
1/2 to 1 cup white wine or beef broth
2 teaspoons cornstarch
1/4 cup cold water
Hot cooked egg noodles
Directions:
In a 3-qt. slow cooker, combine the beef, carrots, celery, onion, soup and wine or broth. Cover and cook on low for 6-7 hours or until meat is tender.
Combine cornstarch and water until smooth; gradually stir into cooking juices. Cover and cook on high for 15 minutes or until thickened. Serve with noodles. Yield: 4 servings.
THURSDAY:  Spirit Night – We will be supporting the elementary school that my kids go to by attending their spirit night at a local restaurant.
FRIDAY:  Chicken & dumplings (slow cooker)
Ingredients:
4 skinless, boneless chicken breasts
2-3 carrots, sliced
2-3 celery stalks, sliced
1 onion, diced
1 can chicken broth
1 can cream of chicken soup (I use 98% fat free)
1 tsp salt, optional
1 tsp garlic powder
1/4 tsp pepper
paprika
2 pkg refrigerated biscuit dough, torn in pieces (I only use one)Place chicken, vegetables, soups & seasonings in crockpot and fill with enough water to cover.  Cover with lid and cook on low 5-6 hours.  About 30 minutes before serving, place the torn biscuit dough into the crockpot.  Cook until the dough is no longer raw in the center. NOTE:  If I don't have time for the biscuits to cook in the slow cooker, I just cook them in the oven and then tear up the biscuits and add them.
Image Credit: What's on my menu
SATURDAY:  Sweet potato foil pack tacos ~ I found this recipe on Marci's blog.  My family was skeptical the first time we tried these, but once they actually tasted them, they were a hit, even with my kids! (and that's not an easy feat!)  I love this recipe because it's low maintenance and yummy!
*This post may contain affiliate links. Please refer to my disclosure policy for more information.