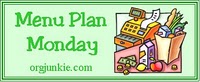 This week's menu again has lots of quick fix and slow cooker meals because I'm more likely to stick to my meal plan if I throw everything together in the morning before I leave for work.
If you're new to menu planning or would like tips for getting started, check out this post here–> Tips for menu planning
You can also view hundreds of meal plans each week at Orgjunkie.com
See my menu and recipes for the week below:
SUNDAY:  Country Ham and Macaroni Casserole – This is ALWAYS my kids top pick when I ask them what they want for dinner!
Ingredients:
1 lb country ham slices or regular smoked ham in one piece (I just use whatever leftover ham we have on hand)
1 large onion, diced
1 lb elbow macaroni (whole wheat)
2 cups shredded extra sharp cheddar cheese (8 oz) – I use reduced fat
1 cup sour cream (I use reduced fat)
1 can cream of chicken soup (I use 98% fat free)
1/4 cup (1/2 stick) margarine, melted (I don't use this when I make it)
1 cup dry plain bread crumbs
1. Heat oven to 400º.
2. Bring 4 quarts water and ham to boiling in large pot. Once water begins to boil,
remove ham to a plate. Add onion and macaroni to pot. Return water to boiling; cook 8 minutes, stirring occasionally.
3. Coarsely chop ham, discarding any fat and bones.
4. Drain macaroni and onion and return to pot. Add ham, cheese, sour cream and soup. Scrape into a 13x9x2 baking dish. Pour melted margarine over top. Sprinkle with bread crumbs.
5. Bake in heated 400º oven 30 minutes or until heated through and top is golden brown.
Let stand 5 minutes before serving.
Note: Prepare in two 8×8 casserole dishes, bake one and freeze one (unbaked) for another day. If freezing, top with crumbs and margarine right before baking.
WW points = 9 points per serving (with modifications above), makes 6 servings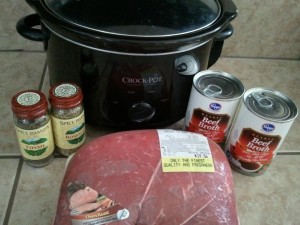 MONDAY:  French dip sandwiches (slow cooker)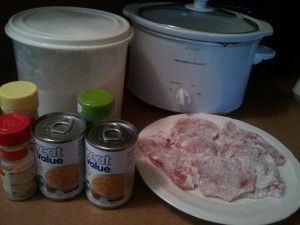 TUESDAY:  Chicken Lickin' Good Pork Chops (slow cooker)
WEDNESDAY:  Cowboy casserole – We will have left over roast beef from our french dip sandwiches, so I'm going to use that in place of the ground beef.  I'm also going to substitute Ranch style beans for baked beans.
Ingredients:
1 lb lean ground beef (we use 93/7)
1 can (16 oz) baked beans
1/2 cup BBQ sauce
2/3 c. milk
2 c. Bisquick
1 T butter or margarine, softened
1/2 c. shredded cheddar cheese
Heat over to 425. In 10-inch skillet, cook beef over medium-high heat 5-7 minutes, stirring occasionally until thoroughly cooked. Drain beef. Stir baked beans and BBQ sauce into beef. Heat to boiling, stirring occasionally. Pour into ungreased 2 quart casserole.
Meanwhile, in a medium bowl, stir Bisquick mix, milk, and butter until soft dough forms. Drop dough by 12 spoonfuls onto beef mixture. Bake uncovered 18-22 minutes (or until topping is golden brown). Sprinkle with cheese. Bake about 3 minutes longer or until cheese is melted.
THURSDAY:  Balsamic Chicken (slow cooker) – This recipe was posted by Holly on the Simply Clean Living blog.  We've tried it a few times now and it is a hit with our family.
Ingredients:
4 Boneless Skinless Chicken Breast Halves – approx. 1.5 to 2 lbs.
½ C. Olive Oil
½ – 1 C. Balsamic Vinegar – depending on how tangy you like the recipe
1 large can of diced tomatoes
1 can tomato sauce
3-4 cloves of garlic minced or pressed
2 t. crushed dry oregano
Combine all ingredients in Crockpot. Cook on low for 6-8 hours. Shred chicken with a fork and serve chicken and sauce over rice or angel hair pasta. The consistency and taste of the sauce is sweet and tangy like an Italian barbeque sauce.
FRIDAY:  Snowman Pizza – I saw this on Pinterest and thought it was cute!  You make a snowman with your pizza dough and add decorations!
SATURDAY: Date Night!  My husband and I get a date night.  I can't wait!
See my menu plans from previous weeks here–> Menu Planning Monday
Looking for more quick fix menu ideas? Sign up for Ready, Set, Eat by clicking on the image below! It's completely free and you'll get recipe ideas delivered to you by e-mail!
*This post may contain affiliate links. Please refer to my disclosure policy for more information.