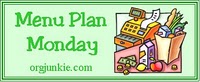 This is a short week for me!
If you're new to menu planning, grab a FREE membership to Food on the Table!  Search their database of recipes and choose your favorites.  They'll generate your grocery list based on the best deals in your area.  You can print it or send it to your Smartphone!  It's awesome!  Click here to grab your membership–>Food on the Table subscription FREE for life (use the code SUMMERFREE to get your free membership) 
I have calculated someWeight Watchers points values using the e-tools Recipe Builder, and points values this week are based on the new Points Plus program! (I will update with points values on the others as we have the meals)
If you're new to menu planning or would like tips for getting started, check out this post here.  You can also view hundreds of meal plans each week at Orgjunkie.com
SUNDAY:  Since it was Father's Day, I picked my husband's two favorites!
Creamy chicken enchiladas – This is a family favorite and we haven't had them in awhile, so everyone was super excited!
Ingredients:
1 can cream of chicken soup (I use the 98% FF kind)
1 can cream of mushroom soup (I use the 98% FF kind)
2 cans green enchilada sauce
1 8 oz-16 oz. tub of sour cream (depends how spicy you want the enchiladas)
2-3 chicken breasts, shredded (if I'm in a hurry, I use canned chicken)
8 oz cheese, shredded
1 dozen flour tortillas (you could use corn also) – we are using whole wheat!
Add cream of chicken soup, cream of mushroom soup, and enchilada sauce to a pan. Cook on medium low heat, stirring occasionally. When sauce is will mixed and starts to thin, add sour cream. Continue stirring occasionally until the sauce is well mixed and thinned out. Place a layer of the sauce along the bottom of a 9X13 baking dish. Fill each tortilla with the shredded chicken, sauce, and cheese. Roll and place in the baking dish. When you have filled all of the tortillas (this should make 1 dozen), pour the remain sauce over the top of the enchiladas and then cover with cheese. Bake at 350 degrees for 25-30 minutes until the cheese is well melted.
WW points = 6 points per enchilada 
Philadelphia 3 step cheesecake
Ingredients:
2 packages (8 ounces each) Philadelphia Cream Cheese (I use the 1/3 less fat and it works fine)
1/2 cup sugar
1/2 tsp vanilla
2 eggs
1 T fresh lemon juice
1/2 tsp grated lemon peel
1 Honey Maid graham cracker pie crust
Beat cream cheese, sugar, and vanilla with electric mixer on medium speed until well blended. Add eggs, 1 at a time, mixing on low speed after each addition just until blended. Stir in fresh lemon juice and grated lemon peel. Pour into crust. Bake at 350 degrees for 40 minutes or until center is almost set. Cool and refrigerate 3 hours (or overnight). I add a can of cherry pie filling on top.
MONDAY:  French dip sandwiches (slow cooker) – This is one of our family's FAVORITE recipes and it's so easy to make!
TUESDAY:  Chile Colorado burritos (slow cooker) – I have seriously been craving these ever since I spotted them on Pinterest a few days ago!  I can't wait to try them!  Instead of the beef bouillon the recipe calls for, I'm going to substitute taco seasoning.
WEDNESDAY: Cream cheese chicken (slow cooker) 
THURSDAY:  Country Ham and Macaroni Casserole – Every time I ask my family to help out with menu planning and give me recipe suggestions, this is always one of the things they choose.
Thanks to Sandy~Bettyinthekitchen (BabyCenter.com Cooking for Your Family Board)
Ingredients:
1 lb country ham slices or regular smoked ham in one piece (I just use whatever leftover ham we have on hand)
1 large onion, diced
1 lb elbow macaroni (whole wheat)
2 cups shredded extra sharp cheddar cheese (8 oz) – I use reduced fat
1 cup sour cream (I use reduced fat)
1 can cream of chicken soup (I use 98% fat free)
1/4 cup (1/2 stick) margarine, melted (I don't use this when I make it)
1 cup dry plain bread crumbs
1. Heat oven to 400º.
2. Bring 4 quarts water and ham to boiling in large pot. Once water begins to boil,
remove ham to a plate. Add onion and macaroni to pot. Return water to boiling; cook 8 minutes, stirring occasionally.
3. Coarsely chop ham, discarding any fat and bones.
4. Drain macaroni and onion and return to pot. Add ham, cheese, sour cream and soup. Scrape into a 13x9x2 baking dish. Pour melted margarine over top. Sprinkle with bread crumbs.
5. Bake in heated 400º oven 30 minutes or until heated through and top is golden brown.
Let stand 5 minutes before serving.
Note: Prepare in two 8×8 casserole dishes, bake one and freeze one (unbaked) for another day. If freezing, top with crumbs and margarine right before baking.
I get the rest of the week off from cooking because Chevy is sending us on a Staycation!  I can't wait!
*This post may contain affiliate links. Please refer to my disclosure policy for more information