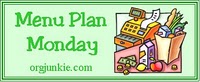 I'm just getting back from vacation and trying to get back into a routine, including meal planning, which is easier said than done!!
If you're new to menu planning, grab a FREE membership to Food on the Table!  Search their database of recipes and choose your favorites.  They'll generate your grocery list based on the best deals in your area.  You can print it or send it to your Smartphone!  It's awesome!  Click here to grab your membership–>Food on the Table subscription FREE for life (use the code SUMMERFREE to get your free membership) 
I have calculated someWeight Watchers points values using the e-tools Recipe Builder, and points values this week are based on the new Points Plus program! (I will update with points values on the others as we have the meals)
If you're new to menu planning or would like tips for getting started, check out this post here.  You can also view hundreds of meal plans each week at Orgjunkie.com
MONDAY:
Breakfast – Cold cereal (I'm crazy and made dentist appointments for the kids at at 7 am!)
Lunch – Pizza Pita pockets – We made these a few weeks ago and they were a hit with the kids, so I'm making them again!
Dinner – Chicken ranch tacos (slow cooker) – The "inspiration" for this recipe comes from Do You Smell That?  That recipe calls for cooking it on the stove, but I'm going to cook mine in the slow cooker using a taco seasoning packet, a ranch dip seasoning packet, and a can of chicken broth.  I can't wait to see how it turns out!  I'm hungry already!
TUESDAY: 
Breakfast – Pancakes
Lunch – Peanut butter and jelly sushi rolls  
Dinner – BBQ chicken with pasta salad 
WEDNESDAY: 
Breakfast – Cold cereal
Lunch – Out (it's our Cinemark Summer movie day!)
Dinner – Cream cheese chicken (slow cooker)  
THURSDAY:
Breakfast – Peanut butter and bananas on a whole wheat English muffin
Lunch – Grilled cheese sandwiches and tomato soup 
Dinner – Steak stroganoff (slow cooker)  – This is another family favorite!
Ingredients:
2T flour
1/2 tsp Garlic powder
1/2 tsp pepper
1/2 tsp paprika
1 3/4 lb. boneless round steak
2 cans 10 3/4 oz cream of mushroom soup (I use 98% FF)
2 c. water (or 1 can 100% FF beef broth for more flavor)
1 envelope beef stew mix
4 oz can mushrooms, sliced and drained
1/2 c. sour cream
1 T minced parsley
Combine flour, garlic powder, pepper, and paprika in slow cooker. Cut meat into 1 1/2 inch strips. Place in flour mixture and toss until meat is well coated. Add soup, water, and stew mix. Stir until well blended. Cover and cook on low 6-7 hours. Stir in mushrooms, sour cream, and parsley and then cook on high 10-15 minutes until heated through. Serve over egg noodles. (Depending on the consistency of the sauce, you may need to add cornstarch to thicken or add more water/broth to thin)
To freeze: Pour into gallon freezer bags (I used Ziploc containers for this one). Allow to cool before freezing.
To reheat: Thaw in refrigerator overnight. Warm on stove and serve over rice or egg noodles. (Add sour cream when warming if you left it out of the initial recipe)
WW points = 7 points/serving, 6-8 servings (add 3 points for 1/2 c. cooked pasta or 5 points for 1 cup)
FRIDAY:
Breakfast – Mini omelets 
Lunch – Turkey and cheese roll-ups
Dinner – Rice meatballs – This is a recipe from my mother in law.  I love it because it's quick and easy!
Ingredients:
1 cup uncooked minute rice
1 lb ground beef (I use 93/7)
1 egg, slightly beaten
2 t. grated onion
2 t. salt (I cut this in half)
1/8 t marjoram
dash pepper
2 1/2 cups tomato juice (or two 8 oz cans tomato sauce mixed with 1/2 cup water)
1/2 t sugar
Combine rice and all other ingredients except tomato juice and sugar. Form balls and arrange in skillet. Pour tomato juice & sugar over meatballs. Bring to boil. Reduce heat & simmer uncovered 15 minutes.
WW points = 7 points per serving
SATURDAY: 
Breakfast – Puffed pancakes
Lunch – Tuna sandwiches
Dinner – Sub sandiwches 
*This post may contain affiliate links. Please refer to my disclosure policy for more information