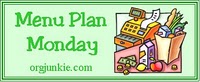 I'm really trying to focus on meal planning again and also planning out breakfasts and lunches, too.  I find that if I have a "plan" it's easier to stick with it!  There are lots of quick and easyrecipes once again this week.
The plan listed here just includes our dinner menu and recipes. I have calculated some Weight Watchers points values using the e-tools Recipe Builder, and points values this week are based on the new Points Plus program! (I will update with points values on the others as we have the meals)
If you've been reading my blog for awhile, then you know that for the past two years, I have done a $40 weekly budget. With the changes to our eating habits and the end of grocery stores in our area doubling and tripling coupons, I'm  finding that is no longer feasible and we end up spending $60-70 per week on groceries instead.
If you're new to menu planning or would like tips for getting started, check out this post here.  You can also view hundreds of meal plans each week at Orgjunkie.com
SUNDAY:  Spaghetti
MONDAY:  Chili (slow cooker) 
Ingredients:
1 lb ground beef (brown in skillet and then place in crockpot)
1 can dark kidney beans (drained and rinsed)
1 can Ranch style beans
1 can diced tomatoes
1 can crushed tomatoes
1 packet chili spices
Mix all ingredients in crockpot and cook on high for 5 hours or low for 8 hours. Sprinkle cheese on top.
TUESDAY:  Steak stroganoff (slow cooker) – My family LOVES this recipe!!
Ingredients:
2T flour
1/2 tsp Garlic powder
1/2 tsp pepper
1/2 tsp paprika
1 3/4 lb. boneless round steak
2 cans 10 3/4 oz cream of mushroom soup (I use 98% FF)
2 c. water (or 1 can 100% FF beef broth for more flavor)
1 envelope beef stew mix
4 oz can mushrooms, sliced and drained
1/2 c. sour cream
1 T minced parsley
Combine flour, garlic powder, pepper, and paprika in slow cooker. Cut meat into 1 1/2 inch strips. Place in flour mixture and toss until meat is well coated. Add soup, water, and stew mix. Stir until well blended. Cover and cook on low 6-7 hours. Stir in mushrooms, sour cream, and parsley and then cook on high 10-15 minutes until heated through. Serve over egg noodles. (Depending on the consistency of the sauce, you may need to add cornstarch to thicken or add more water/broth to thin)
To freeze: Pour into gallon freezer bags (I used Ziploc containers for this one). Allow to cool before freezing.
To reheat: Thaw in refrigerator overnight. Warm on stove and serve over rice or egg noodles. (Add sour cream when warming if you left it out of the initial recipe)
WW points = 7 points/serving, 6-8 servings (add 3 points for 1/2 c. cooked pasta or 5 points for 1 cup)
WEDNESDAY:  Chicken lickin' good pork chops (slow cooker) – This is another one that is super easy to make and really yummy!
THURSDAY:  Tacos 
FRIDAY:  Baked potato bar – I found instructions on Pinterest for making baked potatoes in the slow cooker, so I'm going to test it out!
SATURDAY:  Creamy chicken tortilla soup (slow cooker)