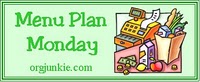 This is my first official week of summer and I'm trying to get on track with menu planning.  Our last swim meet is also this week, which means I'll get my evenings back!  Since I'm off for the summer and my kids are off, too, this is our menu for breakfast, lunch, and dinner.
If you're new to menu planning, grab a FREE membership to Food on the Table!  Search their database of recipes and choose your favorites.  They'll generate your grocery list based on the best deals in your area.  You can print it or send it to your Smartphone!  It's awesome!  Click here to grab your membership–>Food on the Table subscription FREE for life (use the code SUMMERFREE to get your free membership)
I have calculated someWeight Watchers points values using the e-tools Recipe Builder, and points values this week are based on the new Points Plus program! (I will update with points values on the others as we have the meals)
If you've been reading my blog for awhile, then you know that for the past two years, I have done a $40 weekly budget. With the changes to our eating habits and the end of grocery stores in our area doubling and tripling coupons, I'm still experimenting to try to figure out what a reasonable budget is.  Stay tuned!
If you're new to menu planning or would like tips for getting started, check out this post here.  You can also view hundreds of meal plans each week at Orgjunkie.com
SUNDAY:
Breakfast – Pancakes
Lunch – Sub sandwiches
Dinner – Creamy Chicken tortilla soup (slow cooker) – This is one of our family's favorite meals and it's seriously SO easy to make!
MONDAY:
Breakfast – Cold cereal
Lunch – Sub sandwiches (we have buns left from yesterday and they won't last)
Dinner – Lasagne – Barilla no bake noodles are a lifesaver for me!  I use the recipe on the back of the box and it's a family favorite!  I'll make some garlic bread and a green salad to go with it!
TUESDAY: 
Breakfast – Mini omelets 
Lunch – Pizza Pita pockets 
Dinner – Melt in your mouth meatloaf (slow cooker)
WEDNESDAY:
Breakfast – Cold cereal
Lunch – Out (it's our Cinemark Summer movie day!)
Dinner – Crockpot chicken and rice – I came up with this recipe after experimenting a bit and couldn't come up with a more original name.  It's yummy and easy to make!
Ingredients:
2-3 frozen chicken breasts
1 pkg McCormick Zesty Herb chicken seasoning blend (sometimes I substitute the Good Seasonings Italian dressing blend if I have it on hand)
1 can cream of chicken soup
2 c. hot cooked rice
Grated cheese
Tomatoes
Celery
Bell peppers
Place frozen chicken breasts in the bottom of the crockpot. Mix ingredients for McCormick seasoning according to directions on the packet and pour over the top of chicken. Cook on low for five hours. Shred chicken in crock pot using a knife and fork. Add cream of chicken soup. Let cook for one more hour. Service over rice with additional toppings as desired (we add cheese, celery, tomatoes, bell peppers, etc. depending on what we have on hand).
THURSDAY: 
Breakfast – Peanut butter and bananas on a whole wheat English muffin
Lunch – Grilled cheese sandwiches and tomato soup
Dinner – Sub sandwiches (we have a swim meet and these are easy to make and stick in the cooler)
FRIDAY:
Breakfast – Smoothie (I haven't decided on a recipe yet)
Lunch – Tuna sandwiches
Dinner – Stacked green enchiladas – This is a modified version of a recipe my dad makes
Ingredients:
1 can green enchilada sauce
1 can cream of chicken soup (I use 98% FF)
1 can Rotel (drained)
3-4 chicken breasts
corn tortillas (one dozen)
monterrey jack cheese
I place the chicken breasts, enchilada sauce, cream of chicken soup, and Rotel in the crockpot on low all day. When I get home, I shred the chicken and add it back to the mixture. Then, you can either do stacked enchiladas (pour some of the mixture on a corn tortilla/add cheese and repeat for as many layers as you would like) or do rolled enchiladas (place some of the mixture in the corn tortilla, roll, and place in a pan….repeat 9 times…then, pour the remaining sauce mixture over the top and top with cheese and bake at 350 for 20-30 minutes).
SATURDAY:
Breakfast – Puffed pancakes
Lunch – Peanut butter and jelly sushi rolls  
Dinner – BBQ chicken with pasta salad 
*This post may contain affiliate links. Please refer to my disclosure policy for more information.