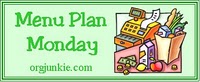 I've slacked off on menu planning lately and I absolutely hate it when that happens!  I've had a hard time balancing going straight from work to swim team practice with my kids every night!  Here's my attempt to get back on track this week!
The plan listed here just includes our dinner menu and recipes. I have calculated someWeight Watchers points values using the e-tools Recipe Builder, and points values this week are based on the new Points Plus program! (I will update with points values on the others as we have the meals)
If you're new to menu planning and would like an easy way to get started, grab a FREE membership toFood on the Table!  Search their database of recipes and choose your favorites.  They'll generate yourgrocery list based on the best deals in your area.  You can print it or send it to your Smartphone!  It's awesome!  Click here to grab your membership–>Food on the Table subscription FREE for life
If you've been reading my blog for awhile, then you know that for the past two years, I have done a $40 weekly budget. With the changes to our eating habits and the end of grocery stores in our area doubling and tripling coupons, I'm  finding that is no longer feasible and we end up spending $60-70 per week on groceries instead.
If you're new to menu planning or would like tips for getting started, check out this post here.  You can also view hundreds of meal plans each week at Orgjunkie.com
SUNDAY:  Steaks, baked potatoes, and pasta salad!  I got the day off from cooking!  My husband grilled steaks, made baked potatoes, and made pasta salad.
Here's the pasta salad recipe:  it's perfect for summer get togethers!
Pizza pasta salad – I found this recipe on Favorite Family Recipes.  We made it for Memorial Day and it was a hit and so we made it again!
Ingredients:
1 bag colored spiral noodles
¾ c. pepperoni cut into wedges
¾ c. mozzarella cut into small cubes
¾ c. fresh tomatoes, diced
½ c. olives, sliced
¼ c. parmesan cheese
1 bottle Bernstein's Restaurant Recipe Italian Dressing (I'm using Kraft low fat Zesty Italian dressing)
Mix together all ingredients and chill in the fridge for at least 3 hours before serving.
MONDAY:  Melt in your mouth meatloaf (slow cooker) – This recipe is SO easy to make and has become a family favorite!
I saw this recipe for Easy Zucchini Parmesan yesterday and zucchini was on sale at the grocery store this week, so I'm excited to test it out!
TUESDAY:  Eat out – it's my son's preschool graduation and we're rolling my daughter's birthday (which is actually tomorrow) into the festivities!
WEDNESDAY:  Steak stroganoff (slow cooker)  – This is another family favorite!
Ingredients:
2T flour
1/2 tsp Garlic powder
1/2 tsp pepper
1/2 tsp paprika
1 3/4 lb. boneless round steak
2 cans 10 3/4 oz cream of mushroom soup (I use 98% FF)
2 c. water (or 1 can 100% FF beef broth for more flavor)
1 envelope beef stew mix
4 oz can mushrooms, sliced and drained
1/2 c. sour cream
1 T minced parsley
Combine flour, garlic powder, pepper, and paprika in slow cooker. Cut meat into 1 1/2 inch strips. Place in flour mixture and toss until meat is well coated. Add soup, water, and stew mix. Stir until well blended. Cover and cook on low 6-7 hours. Stir in mushrooms, sour cream, and parsley and then cook on high 10-15 minutes until heated through. Serve over egg noodles. (Depending on the consistency of the sauce, you may need to add cornstarch to thicken or add more water/broth to thin)
To freeze: Pour into gallon freezer bags (I used Ziploc containers for this one). Allow to cool before freezing.
To reheat: Thaw in refrigerator overnight. Warm on stove and serve over rice or egg noodles. (Add sour cream when warming if you left it out of the initial recipe)
WW points = 7 points/serving, 6-8 servings (add 3 points for 1/2 c. cooked pasta or 5 points for 1 cup)
THURSDAY:  Chili (slow cooker) 
Ingredients:
1 lb ground beef (brown in skillet and then place in crockpot)
1 can dark kidney beans (drained and rinsed)
1 can Ranch style beans
1 can diced tomatoes
1 can crushed tomatoes
1 packet chili spices
Mix all ingredients in crockpot and cook on high for 5 hours or low for 8 hours. Sprinkle cheese on top.
FRIDAY: Sandwich bar – I'll grab some hoagie buns and lay out lunch meat, veggies, cheese, and condiments.  It's super easy and everyone loves it!
SATURDAY:  Creamy chicken enchiladas – another family favorite!
Ingredients:
1 can cream of chicken soup (I use the 98% FF kind)
1 can cream of mushroom soup (I use the 98% FF kind)
2 cans green enchilada sauce
1 8 oz-16 oz. tub of sour cream (depends how spicy you want the enchiladas)
2-3 chicken breasts, shredded (if I'm in a hurry, I use canned chicken)
8 oz cheese, shredded
1 dozen flour tortillas (you could use corn also) – we are using whole wheat!
Add cream of chicken soup, cream of mushroom soup, and enchilada sauce to a pan. Cook on medium low heat, stirring occasionally. When sauce is will mixed and starts to thin, add sour cream. Continue stirring occasionally until the sauce is well mixed and thinned out. Place a layer of the sauce along the bottom of a 9X13 baking dish. Fill each tortilla with the shredded chicken, sauce, and cheese. Roll and place in the baking dish. When you have filled all of the tortillas (this should make 1 dozen), pour the remain sauce over the top of the enchiladas and then cover with cheese. Bake at 350 degrees for 25-30 minutes until the cheese is well melted.
WW points = 6 points per enchilada 
*This post may contain affiliate links. Please refer to my disclosure policy for more information