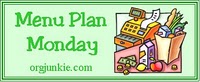 It's been WAY too long since I've done a Menu Planning Monday post, but I'm trying to get back on track in the new year!  I know that meal planning helps our family save so much money and I also know that it helps me to eat better!  In the past, I have planned my menus a week at a time, but I think today I'm going to try to sit down and plan out a menu for a month!  I think it will help me to be more organized and it will help me watch for sales to pair up with menu items, too!
The plan listed here just includes our dinner menu and recipes. I have calculated some Weight Watchers points values using the e-tools Recipe Builder, and points values this week are based on the new Points Plus program! (I will update with points values on the others as we have the meals)
If you've been reading my blog for awhile, then you know that for the past two years, I have done a $40 weekly budget. With the changes to our eating habits and the end of grocery stores in our area doubling and tripling coupons, I'm still experimenting to try to figure out what a reasonable budget is.  Stay tuned!
If you're new to menu planning or would like tips for getting started, check out this post here.  You can also view hundreds of meal plans each week at Orgjunkie.com
SUNDAY – Leftovers!  Yesterday was a lazy day for me and our refrigerator was full of leftovers from the previous week, so we did a clean out!
MONDAY – Spinach chicken wraps – This is an easy "Cheater" recipe when you want to throw a meal together quickly. I buy Spinach tortilla wraps, a bag of Caesar salad mix, and a bag of grilled chicken. I add tomatoes and mix it all together and fill the wraps. The kids love it!
TUESDAY – Chicken & dumplings (slow cooker)
Ingredients:
4 skinless, boneless chicken breasts
2-3 carrots, sliced
2-3 celery stalks, sliced
1 onion, diced
1 can chicken broth
1 can cream of chicken soup (I use 98% fat free)
1 tsp salt, optional
1 tsp garlic powder
1/4 tsp pepper
paprika
2 pkg refrigerated biscuit dough, torn in pieces (I only use one)Place chicken, vegetables, soups & seasonings in crockpot and fill with enough water to cover.  Cover with lid and cook on low 5-6 hours.  About 30 minutes before serving, place the torn biscuit dough into the crockpot.  Cook until the dough is no longer raw in the center.
NOTE:  If I don't have time for the biscuits to cook in the slow cooker, I just cook them in the oven and then tear up the biscuits and add them.
WEDNESDAY – Steak stroganoff (slow cooker) – This is a family favorite!
Ingredients:
2T flour
1/2 tsp Garlic powder
1/2 tsp pepper
1/2 tsp paprika
1 3/4 lb. boneless round steak
2 cans 10 3/4 oz cream of mushroom soup (I use 98% FF)
2 c. water (or 1 can 100% FF beef broth for more flavor)
1 envelope beef stew mix
4 oz can mushrooms, sliced and drained
1/2 c. sour cream
1 T minced parsley
Combine flour, garlic powder, pepper, and paprika in slow cooker. Cut meat into 1 1/2 inch strips. Place in flour mixture and toss until meat is well coated. Add soup, water, and stew mix. Stir until well blended. Cover and cook on low 6-7 hours. Stir in mushrooms, sour cream, and parsley and then cook on high 10-15 minutes until heated through. Serve over egg noodles. (Depending on the consistency of the sauce, you may need to add cornstarch to thicken or add morewater/broth to thin)
To freeze: Pour into gallon freezer bags (I used Ziploc containers for this one). Allow to cool before freezing.
To reheat: Thaw in refrigerator overnight. Warm on stove and serve over rice or egg noodles. (Add sour cream when warming if you left it out of the initial recipe)
WW points = 7 points/serving, 6-8 servings (add 3 points for 1/2 c. cooked pasta or 5 points for 1 cup)
Sides = green beans and green salad 
THURSDAY – Shredded lime chicken tacos –  This is a recipe from Marci's On My Menu blog.  It's family friendly and easy to make since you cook the meat in the slow cooker!
Ingredients:
* 1 1/2 pounds skinless, boneless chicken breast meat – cubed
* 1/8 cup red wine vinegar
* 1/2 lime, juiced
* 1 teaspoon white sugar
* 1/2 teaspoon salt
* 1/2 teaspoon ground black pepper
* 1/4 cup cilantro, chopped
* 1/2 white onion, chopped
* 2 cloves garlic, minced
Directions:
Mix together vinegar, lime juice, sugar, salt, pepper, onion, garlic and cilantro. Put in crock pot with chicken and cook on low 6 hours. Shred chicken apart with forks and serve in tacos with toppings of choice
FRIDAY – Rice meatballs – This is a recipe from my mother in law.  I'm going to make the meatballs before I go to work so all I have to do is cook them when I get home!
Ingredients:
1 cup uncooked minute rice
1 lb ground beef (I use 93/7)
1 egg, slightly beaten
2 t. grated onion
2 t. salt (I cut this in half)
1/8 t marjoram
dash pepper
2 1/2 cups tomato juice (or two 8 oz cans tomato sauce mixed with 1/2 cup water)
1/2 t sugar
Combine rice and all other ingredients except tomato juice and sugar. Form balls and arrange in skillet. Pour tomato juice & sugar over meatballs. Bring to boil. Reduce heat & simmer uncovered 15 minutes.
WW points = 7 points per serving
Sides = green beans and green salad 
SATURDAY – Beef fajitas – This is a request from my daughter.  I bought pre-marinated fajitas at the grocery store, so all we have to do is grill and slice!
*This post may contain affiliate links. Please refer to my disclosure policy for more information