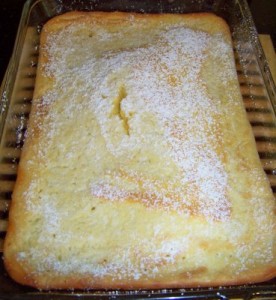 During the school week, things are always rushed and breakfasts are pretty much on the go, so I always make an effort to cook a "good" breakfast on the weekends. My kids love pancakes, but I'm a multi-tasker and I get impatient sitting there waiting for the pancakes to cook which more than once has resulted in burnt pancakes. I got this recipe for puffed pancakes from my friend Marci's blog – On My Menu – about a year ago. I LOVE this recipe because it is super easy to make and you can leave it in the oven and do other things while it's cooking!
Here's the recipe:
Ingredients:
1/2 stick butter (I have used margarine and it worked out fine…)
6 eggs
1 cup Milk
1 Cup Pancake Mix (or Bisquick)
Directions:
Preheat oven to 425 Degrees. Place butter in a 9 X 13 inch pan. Put in preheating oven until butter is melted. In a blender, combine eggs, milk and pancake mix. Pour batter into baking dish. Bake for a bout 15 – 18 Minutes until pancakes are puffy and lightly browned. Do not open oven while pancakes are cooking. Top with sifted powder sugar.
Serve with warm maple syrup or fruit toppings.
If you like this recipe, "pin it" here–>Pin It

If you're not following me on Pinterest, you can follow me here–>

Photo credit: On My Menu (ours aren't done yet, so I couldn't take a picture!)
*This post may contain affiliate links. Please refer to my disclosure policy for more information