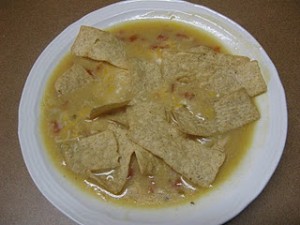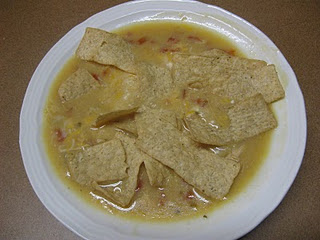 This is one of my favorite "from the stockpile" recipes.  It's a bit spicy on it's own for my kids, but once we add some sour cream, cheese, and chips, they love it!
Ingredients:
3 cans chicken broth (100% FF)
3 cans cream of chicken soup (98% FF)
3-4 chicken breasts
1 can Rotel
Mrs. Dash original seasoning
salt and pepper to taste
Place chicken breasts in the bottom of the crock pot. Add Mrs. Dash's seasoning to taste. Add broth and cream of chicken soup, and Rotel. Cook on low 6-8 hours. Shred chicken in crock pot.  You can freeze the leftovers, too!
To serve: (if frozen)
Defrost in refrigerator. Reheat on stove. Serve and top individual bowls with desired toppings (tomatoes, green onions, avocadoes/guacamole, cheese, tortilla chips, sour cream, etc.)
WW points =  3 per serving – this makes a TON of soup (at least 8 servings for my family), the 3 points, of course, does not include any "toppings" such as cheese, sour cream, and chips!
If you have a favorite frugal recipe or recipe from your stockpile that you'd like to share this month, e-mail me about being a guest blogger!
If you like this recipe, you can "pin it" here–>Pin It

If you aren't following me on Pinterest already, you can follow me here–>