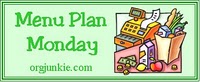 I'm so ready for summer to be here when I have time to plan meals and we're not constantly on the go!
The plan listed here just includes our dinner menu and recipes. I have calculated Weight Watchers points values using the e-tools Recipe Builder, and points values this week are based on the new Points Plus program!
If you've been reading my blog for awhile, then you know that for the past two years, I have done a $40 weekly budget. With the changes to our eating habits, I'm going to increase our budget to $50 per week, and I'm really going to try to stick to that, but I'm not even sure that will be enough. This will be a trial and error experience, so stay tuned!
If you're new to menu planning or would like tips for getting started, check out this post here.  Make sure you check out my HUGE 4K fan giveaway on Facebook:  we've got tons of great prizes including Amazon, Target, Disney, Restaurant.com and Starbucks gift cards PLUS super cute products, too! (there are over 60 items!)
Here's our menu for the week:
SUNDAY: Sour cream noodle bake – This was actually on our menu last week, but we ended up going to a birthday party that night instead, so we didn't get to try it.  This recipe from The Pioneer Woman is similar to a few others I've tried in the past and sounded easy to make, yummy, and kid friendly.  I'm using a few variations to try to make it a bit "healthier"
Ingredients:
1-¼ pound Ground Chuck (93/7 for us)
1 can 15-ounces Tomato Sauce
½ teaspoons Salt
Freshly Ground Black Pepper
8 ounces, weight Egg Noodles (whole wheat for us)
½ cups Sour Cream (fat free)
1-¼ cup Small Curd Cottage Cheese (reduced fat)
½ cups Sliced Green Onions (less To Taste) – we're skipping these!
1 cup Grated Sharp Cheddar Cheese (reduced fat)
Preheat oven to 350 degrees.
Brown ground chuck in a large skillet. Drain fat, then add tomato sauce. 1/2 teaspoon salt and plenty of freshly ground black pepper. Stir, then simmer while you prepare the other ingredients.
Cook egg noodles until al dente. Drain and set aside.
In a medium bowl, combine sour cream and cottage cheese. Add plenty of freshly ground black pepper. Add to noodles and stir. Add green onions and stir.
To assemble, add half of the noodles to a baking dish. Top with half the meat mixture, then sprinkle on half the grated cheddar. Repeat with noodles, meat, then a final layer of cheese. Bake for 20 minutes, or until all cheese is melted.
MONDAY:  Chicken enchilada casserole – This is a recipe that my sister came up with. She uses canned chicken when she makes it. I came up with a little bit of a variation.  It is so easy and kid friendly, too!
Ingredients:
2 chicken breasts (shredded) – or 1 can chicken
1 large can red enchilada sauce
corn tortillas
shredded cheese – I use reduced fat
Directions: (this is what I do) – I put my chicken and the enchilada sauce in the crockpot the night before and then shred it when I get up in the morning. If you are using canned chicken, you can just shred it as you are making the casserole. I spread some of the chicken/sauce mixture along the bottom of the casserole dish so it doesn't stick. Break corn tortillas into four pieces and layer across the bottom of the casserole dish. Spread a layer of the chicken/sauce mixture and cheese. Add another layer of corn tortillas. Continue until you are out of the chicken/sauce mixture. Bake at 350 degrees for 25-30 minutes until the cheese is bubbly.
WW points = 8 points per serving (for 4 servings) – serve w/ green salad and grapes
TUESDAY: Teriyaki chicken – I got this recipe from a freezer swap I did.  It's yummy and so easy to make!  In this case, I'm making a double batch.  I'll make it the night before and let one sit in the marinade and the other one will go into the freezer for another time!
Ingredients:
1 cup sugar
1 cup soy sauce
1 cup pineapple juice
4 chicken breasts
Directions:
Mix marinade ingredients together and throw in a freezer bag with the chicken breasts. If you use it as a freezer meal, just defrost and cook as you please when ready to eat!
We'll serve this with some grilled pineapple – YUM!
WEDNESDAY:  Melt in your mouth meatloaf (slow cooker) – I've made this several times now for our family.  It's easy to make and yummy!
Ingredients:
2 eggs
3/4 c. milk (we use skim)
2/3 c. seasoned bread crumbs
2 tsp dried, minced onion
1 tsp salt
1/2 tsp rubbed sage
1 1/2 pounds ground beef (we always make this with ground turkey instead and it's yummy!)
1/4 c. ketchup
2 T brown sugar
1 tsp ground mustard
1/2 tsp Worcestershire sauce
Directions
1. In a large bowl, combine the first six ingredients. Crumble beef over mixture and mix well (mixture will be moist.) Shape into a round loaf; place in a 5-qt. slow cooker. Cover and cook on low for 5-6 hours or until a meat thermometer reads 160 degrees F.
2. In a small bowl, whisk the ketchup, brown sugar, mustard and Worcestershire sauce. Spoon over the meat loaf. Cook 15 minutes longer or until heated through. Let stand for 10-15 minutes before cutting.
WW points = 5 per serving with the ground turkey, ground beef may be more (makes 6 servings)
Sides – Sour cream mashed potatoes (4 pts) and green beans (0 pts)
THURSDAY: Chicken tortilla soup – This is a family favorite and it's SOO easy to make. I love it for nights when I'm on the go because I can just dump everything in the crock pot in the morning and then I just have to shred the chicken and stir it before serving.
Ingredients:
3 cans chicken broth (100% FF)
3 cans cream of chicken soup (98% FF)
3-4 chicken breasts
1 can Rotel
Mrs. Dash original seasoning
salt and pepper to taste
Place chicken breasts in the bottom of the crock pot. Add Mrs. Dash's seasoning to taste. Add broth and cream of chicken soup, and Rotel. Cook on low 6-8 hours. Shred chicken in crock pot.
To serve: (if frozen)
Defrost in refrigerator. Reheat on stove. Serve and top individual bowls with desired toppings (tomatoes, green onions, avocadoes/guacamole, cheese, tortilla chips, sour cream, etc.)
WW points =  3 per serving – this makes a TON of soup (at least 8 servings for my family), the 3 points, of course, does not include any "toppings" such as cheese, sour cream, and chips!
FRIDAY: Honey lime pork chops – Pork chops were super cheap this week and we're excited for this recipe because we haven't had it in awhile.
Ingredients:
1/2 cup lime juice
1/2 cup soy sauce
2 Tbsp honey
2 minced garlic cloves
6 boneless pork chops
Combine in a ziploc bag and turn to coat. Refrigerate at least 2-3 hours (I usually put them in in the morning and leave them all day). You can either grill or broil them, 6-7 minutes per side.
Sauce:
3/4 cup chicken broth
1 minced garlic clove
1/2 tsp lime juice
dash pepper
1 1/2 tsp honey
1/8 tsp browning sauce
Combine in a small saucepan. Bring to a boil. Combine 2 tsp cornstarch and 2 Tbsp water till smooth. Stir into broth. Return to a boil; cook & stir 1-2 minutes.
SATURDAY: Bourbon chicken – Keli shared this recipe awhile back in a Menu Planning Monday post on her blog.  Our family loves it and it's fairly easy to make!
Ingredients:
1 1/2-2 lbs boneless, skinless chicken breasts (cut into bite size pieces)
1-2 T olive oil
1 garlic clove, crushed
1/4 tsp ginger
3/4 tsp crushed red pepper flakes
1/4 c. apple juice (in the comments section on Recipezaar, some people substituted pineapple juice or orange juice)
1/3 c. light brown sugar
2 T ketchup
1 T cider vinegar (in the comments section on Recipezaar, some people substituted balsamic vinger or did half and half)
1/2 c. water
1/3 c. soy sauce
Directions:
Heat oil in a large skillet. Add chicken pieces and cook until lightly browned. Remove chicken. Add remaining ingredients, heating over medium heat until well dissolved. Add chicken and bring to a hard boil. Reduce heat and simmer for 20 minutes. Serve over hot rice.
NOTES: On Recipezaar, some people mixed cornstarch and water and added it at the end to thicken the sauce.
*This post may contain affiliate links. Please refer to my disclosure policy for more information