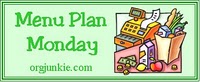 Raise your hand if you're ready for summer!  I know that I am!  I'm ready for a break and lots and lots of grilling!  Right now, I'm struggling to throw menus together.
The plan listed here just includes our dinner menu and recipes. I have calculated Weight Watchers points values using the e-tools Recipe Builder, and points values this week are based on the new Points Plus program!
If you've been reading my blog for awhile, then you know that for the past two years, I have done a $40 weekly budget. With the changes to our eating habits, I'm going to increase our budget to $50 per week, and I'm really going to try to stick to that, but I'm not even sure that will be enough. This will be a trial and error experience, so stay tuned!
If you're new to menu planning or would like tips for getting started, check out this post here.  Make sure you check out my HUGE 4K fan giveaway on Facebook:  we've got tons of great prizes including Amazon, Target, Disney, Restaurant.com and Starbucks gift cards PLUS super cute products, too! (there are over 60 items!)
Today (4/11) is the LAST day to enter my giveaway for the Green Giant gift pack!  Details are here.
SUNDAY: BBQ – today was my son's 4th birthday and he wanted hamburgers and hot dogs, so that's what he got!  We did make this yummy pasta salad, too.
Pizza pasta salad – I found this recipe on Favorite Family Recipes.  We made it for Memorial Day last year and it was a hit and has become a favorite for family get-togethers and BBQs.
Ingredients:
1 bag colored spiral noodles
¾ c. pepperoni cut into wedges
¾ c. mozzarella cut into small cubes
¾ c. fresh tomatoes, diced
½ c. olives, sliced
¼ c. parmesan cheese
1 bottle Bernstein's Restaurant Recipe Italian Dressing (I'm using Kraft low fat Zesty Italian dressing)
Mix together all ingredients and chill in the fridge for at least 3 hours before serving.
MONDAY: Leftovers – we have SO much food left from yesterday, so we're going to have another round!
TUESDAY: Teriyaki chicken – I got this recipe from a freezer swap I did.  It's yummy and so easy to make!  In this case, I'm making a double batch.  I'll make it the night before and let one sit in the marinade and the other one will go into the freezer for another time!
Ingredients:
1 cup sugar
1 cup soy sauce
1 cup pineapple juice
4 chicken breasts
Directions:
Mix marinade ingredients together and throw in a freezer bag with the chicken breasts. If you use it as a freezer meal, just defrost and cook as you please when ready to eat!
We'll serve this with some grilled pineapple – YUM!
WEDNESDAY: Peppered steak – this is a family recipe that came from my mother in law
Ingredients:
3 cups hot cooked rice
1 lb lean beef round steak (cut into 1/2 inch thick strips)
1 T Paprika
2 T butter
2 cloves garlic, crushed
1 1/2 c. beef broth
1 cup sliced green onions
2 green peppers, cut in strips
2T cornstarch
1/4 c. water
1/4 c. soy sauce
2 lg tomatoes (cut in eighths)
Pound steak to 1/4 inch thick. Cut into 1/4 inch wide strips. Sprinkle meat with paprika. Let stand. Brown meat in butter. Add garlic and brother. Cover and simmer for 30 minutes. Stir in onions and green peppers. Cover and cook 5 minutes. Blend cornstarch, water and soy sauce. Stir into meat mixture. Cook, stirring until clear and thickened, about 2 minutes. Add tomatoes and stir gently. Serve over beds of fluffy rice.
WW points = 7 points/serving  (add an additional 3 points for 1/2 cup rice and 5 points for 1 cup rice), this makes 4 servings.
THURSDAY: Chicken lickin' good pork chops (slow cooker) – Thursdays are INSANE days from me.  I go from work to ballet to soccer practice.  For Thursdays, I always want recipes I can stick in the slow cooker that will basically be ready by the time I got home, and this recipe is perfect for that!
Ingredients:
6-8 lean pork chops, 1-inch thick
1/2 cup flour (omit if you don't brown chops in skillet)
1 tsp salt
1 1/2 tsp dry mustard
1/2 tsp garlic powder
2 Tbsp oil (omit if you don't brown chops in skillet)
1 10.5oz can chicken & rice soup
Dredge pork chops in mixture of flour, salt, dry mustard & garlic powder. Brown chops in oil in a large skillet. Place browned pork chops in crockpot. Add can of soup. Cover and cook on low 6-8 hours or high 3 1/2 hours. If I don't brown the chops, then I just toss the salt, dry mustard & garlic powder in the crockpot instead of dredging the chops.
*Note: When making this meal, I use a can of family size chicken & rice soup and drain off some of the broth – it keeps the meat tender and there is more of the chicken & rice mixture for everyone! If you don't have time to brown the chops first in a skillet, I've also just dipped it into the flour mixture and put it straight into the slow cooker and it works fine that way, too.
FRIDAY: Country Ham and Macaroni Casserole – My kids seriously LOVE this meal.  It makes me laugh because they request it over and over again every week when I ask for help with menu planning.  My hubby will be working late tonight, so I figured I might as well make something that I knew for sure that they would eat (I hate it when meal time becomes a battle!)
Thanks to Sandy~Bettyinthekitchen (BabyCenter.com Cooking for Your Family Board)
Ingredients:
1 lb country ham slices or regular smoked ham in one piece (I just use whatever leftover ham we have on hand)
1 large onion, diced
1 lb elbow macaroni (whole wheat)
2 cups shredded extra sharp cheddar cheese (8 oz) – I use reduced fat
1 cup sour cream (I use reduced fat)
1 can cream of chicken soup (I use 98% fat free)
1/4 cup (1/2 stick) margarine, melted (I don't use this when I make it)
1 cup dry plain bread crumbs
1. Heat oven to 400º.
2. Bring 4 quarts water and ham to boiling in large pot. Once water begins to boil,
remove ham to a plate. Add onion and macaroni to pot. Return water to boiling; cook 8 minutes, stirring occasionally.
3. Coarsely chop ham, discarding any fat and bones.
4. Drain macaroni and onion and return to pot. Add ham, cheese, sour cream and soup. Scrape into a 13x9x2 baking dish. Pour melted margarine over top. Sprinkle with bread crumbs.
5. Bake in heated 400º oven 30 minutes or until heated through and top is golden brown.
Let stand 5 minutes before serving.
Note: Prepare in two 8×8 casserole dishes, bake one and freeze one (unbaked) for another day. If freezing, top with crumbs and margarine right before baking.
WW points = 9 points per serving (with modifications above), makes 6 servings
Sides:  sliced cantaloupe and green salad
SATURDAY: Sour cream noodle bake – I decided I wanted another "kid friendly" (no hassles for mom) recipe for tonight.  This recipe from The Pioneer Woman is similar to a few others I've tried in the past and sounded easy to make, yummy, and kid friendly.  I'm using a few variations to try to make it a bit "healthier"
Ingredients
1-¼ pound Ground Chuck (93/7 for us)
1 can 15-ounces Tomato Sauce
½ teaspoons Salt
Freshly Ground Black Pepper
8 ounces, weight Egg Noodles (whole wheat for us)
½ cups Sour Cream (fat free)
1-¼ cup Small Curd Cottage Cheese (reduced fat)
½ cups Sliced Green Onions (less To Taste) – we're skipping these!
1 cup Grated Sharp Cheddar Cheese (reduced fat)
Preparation Instructions
Preheat oven to 350 degrees.
Brown ground chuck in a large skillet. Drain fat, then add tomato sauce. 1/2 teaspoon salt and plenty of freshly ground black pepper. Stir, then simmer while you prepare the other ingredients.
Cook egg noodles until al dente. Drain and set aside.
In a medium bowl, combine sour cream and cottage cheese. Add plenty of freshly ground black pepper. Add to noodles and stir. Add green onions and stir.
To assemble, add half of the noodles to a baking dish. Top with half the meat mixture, then sprinkle on half the grated cheddar. Repeat with noodles, meat, then a final layer of cheese. Bake for 20 minutes, or until all cheese is melted.
*This post may contain affiliate links. Please refer to my disclosure policy for more information