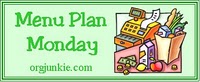 Happy Monday!  I hope everyone had a wonderful weekend!  I usually try to try one or two new recipes each week, but right now, it's the end of the school year and I'm in survival mode, so I'm sticking to trusty stand-bys.
The plan listed here just includes our dinner menu and recipes. I have calculated Weight Watchers points values using the e-tools Recipe Builder, and points values this week are based on the new Points Plus program! Both kids eat breakfast at home, but my son eats lunch at daycare, my daughter eats lunch at
If you've been reading my blog for awhile, then you know that for the past two years, I have done a $40 weekly budget. With the changes to our eating habits, I'm going to increase our budget to $50 per week and I'm really going to try to stick to that, but I'm not even sure that will be enough. This will be a trial and error experience, so stay tuned!
If you're new to menu planning or would like tips for getting started, check out this post here.
SUNDAY:  In addition to being Easter, it was also my mom's birthday!  I hosted dinner at my house.  Here are the recipes for what we served!  There are no WW points for any of these recipes because some things are better left unknown and the points values for Easter dinner is one of them!
Baked ham ~ I got the recipe for this "Easy Peasy Ham Glaze" from The Southern Plate – it was easy peasy and yummy, too
1  (approx 8-lb.) smoked, ready-to-cook, bone-in ham
1  cup  packed brown sugar (light or dark, whatever you have)
2  tablespoons coke (or your favorite carbonated drink. I am using Diet Dr Pepper)
1  tablespoon  yellow mustard
Line a large pan with a lip around it with aluminum foil. Place ham in center of foil. In small bowl, stir together brown sugar, coke, and mustard to make your glaze. Brush half of glaze over ham. Wrap entire ham well in foil. Place in 350 degree oven for 2 -1/2 hours.
Remove ham from oven and peel back the foil but don't move the ham. Brush remaining glaze over ham and return to oven, uncovered, for another thirty minutes or until lightly browned. Allow to sit at room temperature for about ten minutes or so before cutting. If you need to serve it later you can cover it with foil to keep it warm and let it sit on your stovetop.
Mashed potato casserole ~ I got this recipe from Hoosier Homemade awhile ago and it's yummy!
Ingredients:
8 oz cream cheese, softened
1 cup French onion dip, refrigerated (I substitute ranch dip here and it's soo yummy!)
2 eggs, beaten
1 cup milk
2 cups water
1/2 c. margarine
3 cups instant potato flakes
Spray 13X9 pan with nonstick spray and set aside. In a large bowl, beat the cream cheese, dip, eggs, and milk until smooth. In a saucepan, combine water and margarine, bring to a boil, and remove from heat. Add the potato flakes and mix well. Pour the potatoes into the cream cheese mixture. Beat until smooth. Pour into the baking dish evenly. Cool, cover, and refrigerate.
Remove the casserole from the refrigerator 30 minutes before serving. Pre-heat the oven to 350 degrees. Uncover and bake for 30-40 minutes. I usually add some cheese on the top right before serving.
Pistachio salad – This has been a family favorite for years.  I have no idea where the original recipe came from, but it's yummy and easy to throw together!
Ingredients:
1 tub Cool Whip (the bigger tub) – I use fat free and it's fine
1 box Pistachio pudding mix (I use sugar free)
1 can fruit cocktail mix
Mix it all together for pure deliciousness! (you can add marshmallows and/or bananas, too – the only problem with the bananas is that it doesn't "keep" as well)
MONDAY ~ Stacked green enchiladas – This is a modified version of a recipe my dad makes – his is a lot more time intensive!
Ingredients:
1 can green enchilada sauce
1 can cream of chicken soup (I use 98% FF)
1 can Rotel (drained)
3-4 chicken breasts
corn tortillas (one dozen)
monterrey jack cheese
I place the chicken breasts, enchilada sauce, cream of chicken soup, and Rotel in the crockpot on low all day. When I get home, I shred the chicken and add it back to the mixture. Then, you can either do stacked enchiladas (pour some of the mixture on a corn tortilla/add cheese and repeat for as many layers as you would like) or do rolled enchiladas (place some of the mixture in the corn tortilla, roll, and place in a pan….repeat 9 times…then, pour the remaining sauce mixture over the top and top with cheese and bake at 350 for 20-30 minutes).
WW points = 8 per serving (makes 4 servings)
Sides – cantaloupe slices, pinto beans
TUESDAY ~ Sweet and sour pork (I got this recipe from my mother in law)
Ingredients:
1 t. soy sauce
1/4 cup sugar
1 1/2 T cornstarch
dash of salt
1/2 c. pineapple juice or water
3 T cider vinegar
2 T ketchup
Pineapple, onions, green peppers
Chopped ham
Mix ingredients in a pan. Stir constantly over low heat until thickened and translucent. Add pineapple, onion, green peppers, and ham. Serve over rice.
WW points per serving = 8 points per serving (including 1/2 cup white rice)
WEDNESDAY ~ Honey lime pork chops – Pork chops were super cheap this week and we're excited for this recipe because we haven't had it in awhile.
Ingredients:
1/2 cup lime juice
1/2 cup soy sauce
2 Tbsp honey
2 minced garlic cloves
6 boneless pork chops
Combine in a ziploc bag and turn to coat. Refrigerate at least 2-3 hours (I usually put them in in the morning and leave them all day). You can either grill or broil them, 6-7 minutes per side.
Sauce:
3/4 cup chicken broth
1 minced garlic clove
1/2 tsp lime juice
dash pepper
1 1/2 tsp honey
1/8 tsp browning sauce
Combine in a small saucepan. Bring to a boil. Combine 2 tsp cornstarch and 2 Tbsp water till smooth. Stir into broth. Return to a boil; cook & stir 1-2 minutes.
THURSDAY ~ Country Ham and Macaroni Casserole – My kids seriously LOVE this meal.  It makes me laugh because they request it over and over again every week when I ask for help with menu planning.  My hubby will be working late tonight, so I figured I might as well make something that I knew for sure that they would eat (I hate it when meal time becomes a battle!)
Thanks to Sandy~Bettyinthekitchen (BabyCenter.com Cooking for Your Family Board)
Ingredients:
1 lb country ham slices or regular smoked ham in one piece (I just use whatever leftover ham we have on hand)
1 large onion, diced
1 lb elbow macaroni (whole wheat)
2 cups shredded extra sharp cheddar cheese (8 oz) – I use reduced fat
1 cup sour cream (I use reduced fat)
1 can cream of chicken soup (I use 98% fat free)
1/4 cup (1/2 stick) margarine, melted (I don't use this when I make it)
1 cup dry plain bread crumbs
1. Heat oven to 400º.
2. Bring 4 quarts water and ham to boiling in large pot. Once water begins to boil,
remove ham to a plate. Add onion and macaroni to pot. Return water to boiling; cook 8 minutes, stirring occasionally.
3. Coarsely chop ham, discarding any fat and bones.
4. Drain macaroni and onion and return to pot. Add ham, cheese, sour cream and soup. Scrape into a 13x9x2 baking dish. Pour melted margarine over top. Sprinkle with bread crumbs.
5. Bake in heated 400º oven 30 minutes or until heated through and top is golden brown.
Let stand 5 minutes before serving.
Note: Prepare in two 8×8 casserole dishes, bake one and freeze one (unbaked) for another day. If freezing, top with crumbs and margarine right before baking.
WW points = 9 points per serving (with modifications above), makes 6 servings
Sides:  sliced cantaloupe and green salad
FRIDAY ~ Steak stroganoff (slow cooker) – This is a family favorite!
Ingredients:
2T flour
1/2 tsp Garlic powder
1/2 tsp pepper
1/2 tsp paprika
1 3/4 lb. boneless round steak
2 cans 10 3/4 oz cream of mushroom soup (I use 98% FF)
2 c. water (or 1 can 100% FF beef broth for more flavor)
1 envelope beef stew mix
4 oz can mushrooms, sliced and drained
1/2 c. sour cream
1 T minced parsley
Combine flour, garlic powder, pepper, and paprika in slow cooker. Cut meat into 1 1/2 inch strips. Place in flour mixture and toss until meat is well coated. Add soup, water, and stew mix. Stir until well blended. Cover and cook on low 6-7 hours. Stir in mushrooms, sour cream, and parsley and then cook on high 10-15 minutes until heated through. Serve over egg noodles. (Depending on the consistency of the sauce, you may need to add cornstarch to thicken or add more water/broth to thin)
To freeze: Pour into gallon freezer bags (I used Ziploc containers for this one). Allow to cool before freezing.
To reheat: Thaw in refrigerator overnight. Warm on stove and serve over rice or egg noodles. (Add sour cream when warming if you left it out of the initial recipe)
WW points = 7 points/serving, 6-8 servings (add 3 points for 1/2 c. cooked pasta or 5 points for 1 cup)
Sides = green beans and green salad
SATURDAY~ BBQ chicken (simple, but yummy!)
*This post may contain affiliate links. Please refer to my disclosure policy for more information.