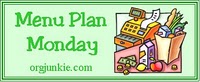 My kids head back to school this week, and so hopefully this means that I'll be able to get back into my menu planning and cooking routine!  We had a great discussion on Facebook last night about menu planning and some readers gave some great tips.  You can check it out here if you missed it!
The plan listed here just includes our dinner menu and recipes. I have calculated some Weight Watchers points values using the e-tools Recipe Builder, and points values this week are based on the new Points Plus program! (I will update with points values on the others as we have the meals)
If you've been reading my blog for awhile, then you know that for the past two years, I have done a $40 weekly budget. With the changes to our eating habits, I'm going to increase our budget to $50 per week and I'm really going to try to stick to that, but I'm not even sure that will be enough. This will be a trial and error experience, so stay tuned!
If you're new to menu planning or would like tips for getting started, check out this post here.  You can also view hundreds of meal plans each week at Orgjunkie.com
SUNDAY:  Country Ham and Macaroni Casserole – We started a tradition in our house where we have a "back to school celebration dinner."  My daughter gets to pick what she wants to have and this has been her choice two years in a row!
Thanks to Sandy~Bettyinthekitchen (BabyCenter.com Cooking for Your Family Board)
Ingredients:
1 lb country ham slices or regular smoked ham in one piece (I just use whatever leftover ham we have on hand)
1 large onion, diced
1 lb elbow macaroni (whole wheat)
2 cups shredded extra sharp cheddar cheese (8 oz) – I use reduced fat
1 cup sour cream (I use reduced fat)
1 can cream of chicken soup (I use 98% fat free)
1/4 cup (1/2 stick) margarine, melted (I don't use this when I make it)
1 cup dry plain bread crumbs
1. Heat oven to 400º.
2. Bring 4 quarts water and ham to boiling in large pot. Once water begins to boil,
remove ham to a plate. Add onion and macaroni to pot. Return water to boiling; cook 8 minutes, stirring occasionally.
3. Coarsely chop ham, discarding any fat and bones.
4. Drain macaroni and onion and return to pot. Add ham, cheese, sour cream and soup. Scrape into a 13x9x2 baking dish. Pour melted margarine over top. Sprinkle with bread crumbs.
5. Bake in heated 400º oven 30 minutes or until heated through and top is golden brown.
Let stand 5 minutes before serving.
Note: Prepare in two 8×8 casserole dishes, bake one and freeze one (unbaked) for another day. If freezing, top with crumbs and margarine right before baking.
WW points = 9 points per serving (with modifications above), makes 6 servings
MONDAY:  Steak stroganoff (slow cooker) – This is a family favorite and I love it because I can throw it in the slow cooker all day and all I have to do when I get home is make some noodles or rice!
Ingredients:
2T flour
1/2 tsp Garlic powder
1/2 tsp pepper
1/2 tsp paprika
1 3/4 lb. boneless round steak
2 cans 10 3/4 oz cream of mushroom soup (I use 98% FF)
2 c. water (or 1 can 100% FF beef broth for more flavor)
1 envelope beef stew mix
4 oz can mushrooms, sliced and drained
1/2 c. sour cream
1 T minced parsley
Combine flour, garlic powder, pepper, and paprika in slow cooker. Cut meat into 1 1/2 inch strips. Place in flour mixture and toss until meat is well coated. Add soup, water, and stew mix. Stir until well blended. Cover and cook on low 6-7 hours. Stir in mushrooms, sour cream, and parsley and then cook on high 10-15 minutes until heated through. Serve over egg noodles. (Depending on the consistency of the sauce, you may need to add cornstarch to thicken or add more water/broth to thin)
To freeze: Pour into gallon freezer bags (I used Ziploc containers for this one). Allow to cool before freezing.
To reheat: Thaw in refrigerator overnight. Warm on stove and serve over rice or egg noodles. (Add sour cream when warming if you left it out of the initial recipe)
WW points = 7 points/serving, 6-8 servings (add 3 points for 1/2 c. cooked pasta or 5 points for 1 cup)
Sides = green beans and green salad
TUESDAY:  Sweet potato foil pack tacos ~ I found this recipe on Marci's blog.  My family was skeptical the first time we tried these, but once they actually tasted them, they were a hit, even with my kids! (and that's not an easy feat!)
Ingredients:
1/2 lb ground beef or turkey
2-3 T taco seasoning
1/2 cup tomato sauce (4 ounces)
1 can black, kidney, or pinto beans, drained (I used black)
2-3 medium sweet potatoes, peeled and cut into 1/2-inch cubes (about 6 cups total)
2 T butter
salt
1 1/2 cups chopped fresh spinach
1 1/2 cups shredded cheddar cheese
sour cream, salsa, and/or guacamole for garnish
6 12-inch long pieces of aluminum foil
Directions:
Preheat oven to 425 degrees F.
Brown ground meat in a skillet over medium-high heat. Stir in taco seasoning, tomato sauce, and beans. Set aside.
To assemble packets, spray the foil with non-stick spray. Place 1 cup sweet potato cubes in the center of each piece. Top with a small piece of butter (about 1 tsp) and a pinch or two of salt. Sprinkle some chopped spinach over the sweet potatoes, followed by about 1/3 cup of taco meat and sprinkle of cheese. Fold the sides in, then bring the top and bottom ends of the foil together in the center and fold, sealing the packet.
Repeat with remaining ingredients, placing the packets on a rimmed cookie sheet. Bake for 25-30 minutes until the sweet potatoes are tender.
Serve with sour cream, salsa, and/or guacamole.  Makes 6 servings.
WEDNESDAY:  Chicken & dumplings (slow cooker)
Ingredients:
4 skinless, boneless chicken breasts
2-3 carrots, sliced
2-3 celery stalks, sliced
1 onion, diced
1 can chicken broth
1 can cream of chicken soup (I use 98% fat free)
1 tsp salt, optional
1 tsp garlic powder
1/4 tsp pepper
paprika
2 pkg refrigerated biscuit dough, torn in pieces (I only use one)
Place chicken, vegetables, soups & seasonings in crockpot and fill with enough water to cover.  Cover with lid and cook on low 5-6 hours.  About 30 minutes before serving, place the torn biscuit dough into the crockpot.  Cook until the dough is no longer raw in the center.
NOTE:  If I don't have time for the biscuits to cook in the slow cooker, I just cook them in the oven and then tear up the biscuits and add them.
THURSDAY: Black bean and chicken burritos (slow cooker) – This is another family favorite that is SUPER easy to make!  Our Thursday nights are INSANE (I go straight from work to ballet and then to soccer practice), so this is an easy recipe that can cook all day and it's ready to serve (all you have to do is shred the chicken) when you get home!
Ingredients:
1 taco/fajita seasoning packet
2 cans black beans, drained
2-3 chicken breasts
1 can green enchilada sauce
Place chicken breasts in bottom of the crockpot and then add remaining ingredients. Cook on low 6-8 hours. Shred chicken before serving and serve in tortillas. We add cheese, sour cream, etc. to the tortillas. We sometimes add rice (cooked rice to the mixture once we're ready to serve, not in the crockpot!). This is also really good if you use beef instead of the chicken!

WW points = 6 points Per serving (does not include the tortillas)
FRIDAY:  Crockpot chicken and rice
Ingredients:
2-3 frozen chicken breasts
1 pkg McCormick Zesty Herb chicken seasoning blend (sometimes I substitute the Good Seasonings Italian dressing blend if I have it on hand)
1 can cream of chicken soup
2 c. hot cooked rice
Grated cheese
Tomatoes
Celery
Bell peppers
Place frozen chicken breasts in the bottom of the crockpot. Mix ingredients for McCormick seasoning according to directions on the packet and pour over the top of chicken. Cook on low for five hours. Shred chicken in crock pot using a knife and fork. Add cream of chicken soup. Let cook for one more hour. Service over rice with additional toppings as desired (we add cheese, celery, tomatoes, bell peppers, etc. depending on what we have on hand).
SATURDAY:  Swiss chicken – I found this recipe on "Mommy Meals" – it was a hit and very easy to throw together!!
Ingredients:
4 – large boneless, skinless chicken breasts
4 – tablespoons (1/2 stick) butter, melted (I'm going to cut this)
8 – slices Swiss cheese
1 – 10 3/4-oz can condensed cream of chicken soup (I will use 98% FF)
1/4 – cup white wine (I will substitute chicken broth)
1/4 – cup sour cream ( will use reduced fat)
1 Tbs. of olive oil
10 oz. fresh cut mushrooms
1 1/2 – cups Pepperidge farm stuffing mix, crushed, I used savory cornbread
kosher salt and fresh black pepper, to taste
1.Preheat the oven to 350 degrees F.
2. Season Chicken to taste
3. In a large frying pan with a tablespoon of olive oil brown chicken(about 2-3 minutes per side). Meanwhile in a medium bowl, add the soup, sour cream and the wine.
4. Add the chicken to a shallow baking dish that has been spared with non stick spray.
5. Then in the frying pan cook mushrooms until golden brown. Layer the mushroom over the
6. Top chicken with cheese slices.
7. Pour soup mix over the cheese.
8. Sprinkle stuffing mix on top and drizzle with melted butter. Bake for 45 minutes. Remove from the oven and serve.

*This post may contain affiliate links. Please refer to my disclosure policy for more information