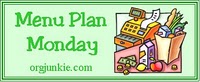 This is the last week of school for the kids – hooray!  I still have two more days of work next week, but I'm starting to see the light at the end of the tunnel!  This week I'm "off the hook" for cooking for 3 days and I'm not complaining at all.
The plan listed here just includes our dinner menu and recipes. I have calculated some Weight Watchers points values using the e-tools Recipe Builder, and points values this week are based on the new Points Plus program! (I will update with points values on the others as we have the meals) Both kids eat breakfast at home, but my son eats lunch at daycare, my daughter eats lunch at
If you've been reading my blog for awhile, then you know that for the past two years, I have done a $40 weekly budget. With the changes to our eating habits, I'm going to increase our budget to $50 per week and I'm really going to try to stick to that, but I'm not even sure that will be enough. This will be a trial and error experience, so stay tuned!
If you're new to menu planning or would like tips for getting started, check out this post here.  You can also view hundreds of meal plans each week at Orgjunkie.com
SUNDAY: BBQ at my parent's house – My contribution was Seven layer dip
Ingredients:
Cream cheese (I use the 1/3 less fat)
Refried beans (I use the fat free variety)
Ground beef – cooked and drained (I use the 93/7)
Guacamole (my recipe below)
Sour cream (I use the reduced fat)
Taco seasoning
Olives
Cheese
I spread the cream cheese along the bottom of a serving dish. Then, I add a layer of the beans (I heat mine before adding them, but I know some people don't – either was is fine). Add a layer of ground beef. Smooth the guacamole over the ground beef as the next layer. Mix the taco seasoning with the sour cream (you only need 1/2 the packet of taco seasoning). Spread the sour cream over the guacamole. Add sliced olives and then cover with cheese. It's so yummy!
Here's how I make my guacamole:
2 avocados
1 Roma tomato
1 T lemon juice
1 T lime juice
garlic powder, onion powder, salt to taste
Mash the avocados and then add the lemon and lime juice, diced tomato and the garlic powder, onion powder, and salt to taste.
Even though I use a lot of reduced fat items to make this, I've never been able to  bring myself to calculate the Weight Watchers points for one serving!
MONDAY: Fajitas – I figured I'd enjoy my last day of "freedom" before going back to work for a week by taking the night off from cooking and letting my husband do the honors!  We buy pre-seasoned fajita meat from HEB, a "Texas" grocery store.  All you have to do is slap them on the grill and they're absolutely delicious!
TUESDAY: Cowboy casserole – We have left over roast beef from our french dip sandwiches, so I'm going to use that in place of the ground beef.  I'm also going to substitute Ranch style beans for baked beans.
Ingredients:
1 lb lean ground beef (we use 93/7)
1 can (16 oz) baked beans
1/2 cup BBQ sauce
2/3 c. milk
2 c. Bisquick
1 T butter or margarine, softened
1/2 c. shredded cheddar cheese
Heat over to 425. In 10-inch skillet, cook beef over medium-high heat 5-7 minutes, stirring occasionally until thoroughly cooked. Drain beef. Stir baked beans and BBQ sauce into beef. Heat to boiling, stirring occasionally. Pour into ungreased 2 quart casserole.
Meanwhile, in a medium bowl, stir Bisquick mix, milk, and butter until soft dough forms. Drop dough by 12 spoonfuls onto beef mixture. Bake uncovered 18-22 minutes (or until topping is golden brown). Sprinkle with cheese. Bake about 3 minutes longer or until cheese is melted.
WW points = 10 points/serving (we'll serve with a green salad and green beans)
WEDNESDAY: Chipotle chicken taco salad – This recipe is from Our Best Bites
SALAD:
4 c. chopped Romaine Lettuce
1 c. cherry or grape tomatoes, washed
1/3 c. vertically-sliced red onions
1 15-oz. can black beans, rinsed and drained
1 8 3/4 oz. can corn, rinsed and drained Chipotle Chicken Taco SaladDRESSING:
1/3 c. chopped fresh cilantro
2/3 c. light sour cream
1 1/2 + tsp. adobo sauce from canned chipotle chilies
1 tsp. chili powder
4 tsp. fresh lime juice
¼ tsp. salt
OPTIONAL:
Tortilla Strips
Make sure all salad ingredients that need to be washed or rinsed have been. Combine lettuce, chicken, beans, corn, onion, and tomatoes in a large bowl and gently mix with your hands (which you have obviously and thoroughly washed, of course!

). Set aside.
Mix dressing ingredients. I say to start with 1 1/2 tsp. of adobo sauce and then go from there, probably 1/4-1/2 tsp. at a time. If you're serving this for a crowd, it's probably better to err on the side of not spicy enough rather than too spicy, but if you're just making it for your family and you have taste buds of steel, have at it. You could even chop up one of the chilies and toss it in there if you're feeling super-brave. Then taste the dressing and you'll know what heaven tastes like. Set dressing aside.
If you're making tortilla strips, fry those puppies up now. I didn't make them here because I'm trying my darndest not to be naughty nutritionally, but if I make this salad for some kind of festivity, I always make the tortilla strips. Allow them to cool.
When you're ready to serve, add avocado, tortilla strips, and dressing. Gently combine with your hands and serve.
THURSDAY: End of year soccer party – no cooking for me!
FRIDAY: Monterey Chicken – This recipe is so yummy and so easy!
Ingredients:
4 (5 oz.) Boneless Skinless Chicken Breasts1/4 Cup Barbecue Sauce
1/4 Cup Hormel Real Bacon Bits
1 Cup 2% Colby and Monterey Jack Shredded Cheese*
1 (14 oz.) Can Diced Tomatoes with Green Chilies, drained (I'm just going to use regular diced tomatoes)
Sliced Green Onions
Pepper
Preheat oven to 400 degrees. Pound out the chicken breasts to flatten. Season each with a little pepper. Cook the chicken in a skillet sprayed with non-stick cooking spray over medium-low heat until no longer pink.
Place each breast onto a baking sheet and top each breast with 1 tablespoon of barbeque sauce, 1/4 cup cheese, 1/4 cup tomatoes, green onions and 1 tablespoon of bacon bits. Place into the oven and bake until the cheese has melted (about 5 minutes).
Per Serving: 263 Calories; 8g Fat (29.0% calories from fat); 39g Protein; 6g Carbohydrate; 1g Dietary Fiber; 108mg Cholesterol; 840mg Sodium. Exchanges: 4 1/2 Lean Meat; 0 Other Carbohydrates.
WW points = 6 points per serving
SATURDAY:
Swiss chicken –
I found this recipe on "
Mommy Meals
" – it was a hit and very easy to throw together!!Ingredients:
4 – large boneless, skinless chicken breasts
4 – tablespoons (1/2 stick) butter, melted (I'm going to cut this)
8 – slices Swiss cheese
1 – 10 3/4-oz can condensed cream of chicken soup (I will use 98% FF)
1/4 – cup white wine (I will substitute chicken broth)
1/4 – cup sour cream ( will use reduced fat)
1 Tbs. of olive oil
10 oz. fresh cut mushrooms
1 1/2 – cups Pepperidge farm stuffing mix, crushed, I used savory cornbread
kosher salt and fresh black pepper, to taste
1.Preheat the oven to 350 degrees F.
2. Season Chicken to taste
3. In a large frying pan with a tablespoon of olive oil brown chicken(about 2-3 minutes per side). Meanwhile in a medium bowl, add the soup, sour cream and the wine.
4. Add the chicken to a shallow baking dish that has been spared with non stick spray.
5. Then in the frying pan cook mushrooms until golden brown. Layer the mushroom over the
6. Top chicken with cheese slices.
7. Pour soup mix over the cheese.
8. Sprinkle stuffing mix on top and drizzle with melted butter. Bake for 45 minutes. Remove from the oven and serve.
*This post may contain affiliate links. Please refer to my disclosure policy for more information