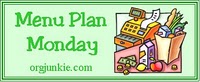 One of the biggest deterrents to cooking at home that I hear from others is "I don't have time."  The key is to plan ahead.  If you plan meals that work with your schedule and already have a plan in mind, you can usually pull it off!  This is our crazy, busy week menu.  I'm glad I only have one more full crazy busy week to go before I'm off for the summer!
The plan listed here just includes our dinner menu and recipes. I have calculated some Weight Watchers points values using the e-tools Recipe Builder, and points values this week are based on the new Points Plus program! (I will update with points values on the others as we have the meals) Both kids eat breakfast at home, but my son eats lunch at daycare, my daughter eats lunch at
If you've been reading my blog for awhile, then you know that for the past two years, I have done a $40 weekly budget. With the changes to our eating habits, I'm going to increase our budget to $50 per week and I'm really going to try to stick to that, but I'm not even sure that will be enough. This will be a trial and error experience, so stay tuned!
If you're new to menu planning or would like tips for getting started, check out this post here.  You can also view hundreds of meal plans each week at Orgjunkie.co
SUNDAY: Mexican Chicken Roll-ups – I have been wanting to try this recipe for a long time and it finally made it into our rotation! I found it on Mommie Cooks. My husband and I loved it (the sauce is delicious and we had some left after I had "assembled" the chicken – we used ours to pour on top when it was done cooking for added flavor)  The kids were not as thrilled (apparently feeding them something that has spinach in it makes me a bad mom)
Ingredients:
4 Oz Cream Cheese
1/2 Cup Salsa Verde
1 Small Bunch Cilantro, Chopped
1 tsp Cumin
1/2 tsp Garlic Powder
6 Chicken Breasts
3 Oz Fresh Spinach
3 Oz Pepper Jack Cheese, Shredded
6 Oz Tortilla Chips, Crushed
Directions:
Flatten out the chicken breasts to about 1/4″ thickness. Blend together the cream cheese, salsa, cilantro, cumin and garlic powder to form a sauce. Spread spoonful of sauce across each breast. Top with spinach leaves and then cheese. Roll closed and cover in crushed tortilla chips. Bake at 350 covered for 30 to 35 minutes or until chicken is cooked through.
MONDAY: Balsamic Chicken (slow cooker) – This recipe was originally posted by Holly on the Simply Clean Living blog.  We've tried it a few times now and it is a hit with our family.  We were supposed to have it on Friday, but things didn't quite work out as planned.
Ingredients:
4 Boneless Skinless Chicken Breast Halves – approx. 1.5 to 2 lbs.
½ C. Olive Oil
½ – 1 C. Balsamic Vinegar – depending on how tangy you like the recipe
1 large can of diced tomatoes
1 can tomato sauce
3-4 cloves of garlic minced or pressed
2 t. crushed dry oregano
Combine all ingredients in Crockpot. Cook on low for 6-8 hours. Shred chicken with a fork and serve chicken and sauce over rice or angel hair pasta. The consistency and taste of the sauce is sweet and tangy like an Italian barbeque sauce.
WW points = 11 per serving (add 2 points for 1/2 cup pasta or rice or 4 points for 1 cup pasta or rice); NOTE:  cut the olive oil to 2 Tablespoons and it cuts this recipe to 5 points per serving!
TUESDAY: French dip sandwiches (slow cooker) – This is a family favorite and I love it because it is SOOO easy to make!
Ingredients:
beef roast
2 cans beef broth
1 tsp dried rosemary
1 tsp dried thyme
1 tsp garlic powder
4-6 hoagie buns
(we also add some swiss or provolone cheese)
Place roast in a greased slow cooker. Pour broth over the top of the roast. Add spices. Cover and cook on low heat 8-10 hours (or high heat 5-7 hours). Remove roast and save extra juice. With a fork, break the meat apart and serve on hoagies. Use excess juice for dipping sandwiches.
WW points = 7 points per serving (this does not include the cheese or the buns, add 2 points for the cheese and 4 points for the whole wheat bun)
WEDNESDAY:   Chicken enchilada casserole – This is a recipe that my sister came up with. She uses canned chicken when she makes it. I came up with a little bit of a variation.  It is so easy and kid friendly, too!
Ingredients:
2 chicken breasts (shredded) – or 1 can chicken
1 large can red enchilada sauce
corn tortillas
shredded cheese – I use reduced fat
Directions: (this is what I do) – I put my chicken and the enchilada sauce in the crockpot the night before and then shred it when I get up in the morning. If you are using canned chicken, you can just shred it as you are making the casserole. I spread some of the chicken/sauce mixture along the bottom of the casserole dish so it doesn't stick. Break corn tortillas into four pieces and layer across the bottom of the casserole dish. Spread a layer of the chicken/sauce mixture and cheese. Add another layer of corn tortillas. Continue until you are out of the chicken/sauce mixture. Bake at 350 degrees for 25-30 minutes until the cheese is bubbly.
WW points = 8 points per serving (for 4 servings) – serve w/ green salad and grapes
THURSDAY: On the go – My daughter has her ballet recital tonight, so we'll have to pick something up before or after!
FRIDAY: Monterey Chicken – This recipe is so yummy and so easy!
Ingredients:
4 (5 oz.) Boneless Skinless Chicken Breasts1/4 Cup Barbecue Sauce
1/4 Cup Hormel Real Bacon Bits
1 Cup 2% Colby and Monterey Jack Shredded Cheese*
1 (14 oz.) Can Diced Tomatoes with Green Chilies, drained (I'm just going to use regular diced tomatoes)
Sliced Green Onions
Pepper
Preheat oven to 400 degrees. Pound out the chicken breasts to flatten. Season each with a little pepper. Cook the chicken in a skillet sprayed with non-stick cooking spray over medium-low heat until no longer pink.
Place each breast onto a baking sheet and top each breast with 1 tablespoon of barbeque sauce, 1/4 cup cheese, 1/4 cup tomatoes, green onions and 1 tablespoon of bacon bits. Place into the oven and bake until the cheese has melted (about 5 minutes).
Per Serving: 263 Calories; 8g Fat (29.0% calories from fat); 39g Protein; 6g Carbohydrate; 1g Dietary Fiber; 108mg Cholesterol; 840mg Sodium. Exchanges: 4 1/2 Lean Meat; 0 Other Carbohydrates.
WW points = 6 points per serving
SATURDAY: Lasagne – I just use the recipe on the back of the box of Barilla "no bake" noodles