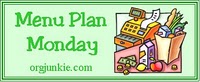 I got back to work this week – my summer vacation went by WAY too fast!  One good thing about going back to work is that I can get back into a routine, especially with cooking and meal planning.  Many of my menu items this week are slow cooker or quick fix items!
The plan listed here just includes our dinner menu and recipes. I have calculated some Weight Watchers points values using the e-tools Recipe Builder, and points values this week are based on the new Points Plus program! (I will update with points values on the others as we have the meals)
If you've been reading my blog for awhile, then you know that for the past two years, I have done a $40 weekly budget. With the changes to our eating habits, I'm going to increase our budget to $50 per week and I'm really going to try to stick to that, but I'm not even sure that will be enough. This will be a trial and error experience, so stay tuned!
If you're new to menu planning or would like tips for getting started, check out this post here.  You can also view hundreds of meal plans each week at Orgjunkie.com
SUNDAY:  Creamy chicken enchiladas – This is a family favorite and I haven't made them in awhile
Ingredients:
1 can cream of chicken soup (I use the 98% FF kind)
1 can cream of mushroom soup (I use the 98% FF kind)
2 cans green enchilada sauce
1 8 oz-16 oz. tub of sour cream (depends how spicy you want the enchiladas)
2-3 chicken breasts, shredded (if I'm in a hurry, I use canned chicken)
8 oz cheese, shredded
1 dozen flour tortillas (you could use corn also) – we are using whole wheat!
Add cream of chicken soup, cream of mushroom soup, and enchilada sauce to a pan. Cook on medium low heat, stirring occasionally. When sauce is will mixed and starts to thin, add sour cream. Continue stirring occasionally until the sauce is well mixed and thinned out. Place a layer of the sauce along the bottom of a 9X13 baking dish. Fill each tortilla with the shredded chicken, sauce, and cheese. Roll and place in the baking dish. When you have filled all of the tortillas (this should make 1 dozen), pour the remain sauce over the top of the enchiladas and then cover with cheese. Bake at 350 degrees for 25-30 minutes until the cheese is well melted.
WW points = 6 points per enchilada
Sides:  green beans and green salad
MONDAY:  French dip sandwiches (slow cooker) – This is a family favorite and I love it because it is SOOO easy to make!
Ingredients:
beef roast
2 cans beef broth
1 tsp dried rosemary
1 tsp dried thyme
1 tsp garlic powder
4-6 hoagie buns
(we also add some swiss or provolone cheese)
Place roast in a greased slow cooker. Pour broth over the top of the roast. Add spices. Cover and cook on low heat 8-10 hours (or high heat 5-7 hours). Remove roast and save extra juice. With a fork, break the meat apart and serve on hoagies. Use excess juice for dipping sandwiches.
WW points = 7 points per serving (this does not include the cheese or the buns, add 2 points for the cheese and 4 points for the whole wheat bun)
TUESDAY:  Cream cheese chicken ~   We rarely have leftovers when we make this because everyone loves it so much!
Ingredients:
2-3 boneless skinless chicken breasts
Salt and pepper (to taste)
2 pkg. dry Ranch or Italian dressing mix (we usually only use one)
1 can cream of chicken soup (you can also use cream of mushroom if you prefer or that's what you have on hand)
8 oz. cream cheese – cut into cubes – substitute Philadelphia Cooking Creme instead!
½ c. chicken broth
Directions: Brush chicken with butter and sprinkle with salt and pepper. Place in crock pot and sprinkle 1 pkg. dry mix over all. Add cream of chicken soup and chicken broth.  Cover and cook on low for 6-7 hours. About 45 minutes before serving, add second packet of dry dressing mix (if you choose – we don't usually use it) and cooking creme . Cook until smooth.  Serve over rice or pasta.
WEDNESDAY:  Beef tips (slow cooker)
THURSDAY:  Chipotle chicken taco salad – This recipe is from Our Best Bites
SALAD:
4 c. chopped Romaine Lettuce
1 c. cherry or grape tomatoes, washed
1/3 c. vertically-sliced red onions
1 15-oz. can black beans, rinsed and drained
1 8 3/4 oz. can corn, rinsed and drained Chipotle Chicken Taco Salad
DRESSING:
1/3 c. chopped fresh cilantro
2/3 c. light sour cream
1 1/2 + tsp. adobo sauce from canned chipotle chilies
1 tsp. chili powder
4 tsp. fresh lime juice
¼ tsp. salt
OPTIONAL:
Tortilla Strips
Make sure all salad ingredients that need to be washed or rinsed have been. Combine lettuce, chicken, beans, corn, onion, and tomatoes in a large bowl and gently mix with your hands (which you have obviously and thoroughly washed, of course! 

 ). Set aside.
Mix dressing ingredients. I say to start with 1 1/2 tsp. of adobo sauce and then go from there, probably 1/4-1/2 tsp. at a time. If you're serving this for a crowd, it's probably better to err on the side of not spicy enough rather than too spicy, but if you're just making it for your family and you have taste buds of steel, have at it. You could even chop up one of the chilies and toss it in there if you're feeling super-brave. Then taste the dressing and you'll know what heaven tastes like. Set dressing aside.
If you're making tortilla strips, fry those puppies up now. I didn't make them here because I'm trying my darndest not to be naughty nutritionally, but if I make this salad for some kind of festivity, I always make the tortilla strips. Allow them to cool.
When you're ready to serve, add avocado, tortilla strips, and dressing. Gently combine with your hands and serve.
FRIDAY:  Teriyaki chicken – I got this recipe from a freezer swap I did.  It's yummy and so easy to make!  In this case, I'm making a double batch.  I'll make it the night before and let one sit in the marinade and the other one will go into the freezer for another time!
Ingredients:
1 cup sugar
1 cup soy sauce
1 cup pineapple juice
4 chicken breasts
Directions:
Mix marinade ingredients together and throw in a freezer bag with the chicken breasts. If you use it as a freezer meal, just defrost and cook as you please when ready to eat!
We'll serve this with some grilled pineapple – YUM!
SATURDAY:  Eat out!
*This post may contain affiliate links. Please refer to my disclosure policy for more information