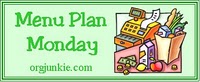 As I was sitting down this morning to work on my posts for the day, I realized it's Monday and I have no menu plan!  Normally, I plan my menus before I go grocery shopping on Saturdays, but now that I'm off for the summer, I can basically shop any day of the week and my Saturdays are consumed with swim meets right now.
Here's my haphazard plan that I threw together.  I'm hoping I'll be better at actually following it this week!
The plan listed here just includes our dinner menu and recipes. I have calculated some Weight Watchers points values using the e-tools Recipe Builder, and points values this week are based on the new Points Plus program! (I will update with points values on the others as we have the meals)
If you've been reading my blog for awhile, then you know that for the past two years, I have done a $40 weekly budget. With the changes to our eating habits, I'm going to increase our budget to $50 per week and I'm really going to try to stick to that, but I'm not even sure that will be enough. This will be a trial and error experience, so stay tuned!
If you're new to menu planning or would like tips for getting started, check out this post here.  You can also view hundreds of meal plans each week at Orgjunkie.com
SUNDAY: Fajitas – I decided to keep it simple and this is something that my husband and dad both love.  I bought pre-seasoned fajita meat from a local grocery sale (it was even part of a meal deal this past week, which was an added bonus!). I also made this cheesecake recipe.  It's relatively easy and no frills, but my family loves it.
Philadelphia 3 step cheesecake
Ingredients:
2 packages (8 ounces each) Philadelphia Cream Cheese (I use the 1/3 less fat and it works fine)
1/2 cup sugar
1/2 tsp vanilla
2 eggs
1 T fresh lemon juice
1/2 tsp grated lemon peel
1 Honey Maid graham cracker pie crust
Beat cream cheese, sugar, and vanilla with electric mixer on medium speed until well blended. Add eggs, 1 at a time, mixing on low speed after each addition just until blended. Stir in fresh lemon juice and grated lemon peel. Pour into crust. Bake at 350 degrees for 40 minutes or until center is almost set. Cool and refrigerate 3 hours (or overnight). I add a can of cherry pie filling on top.
MONDAY: Teriyaki chicken – I got this recipe from a freezer swap I did.  It's yummy and so easy to make!  In this case, I'm making a double batch.  I'll make it the night before and let one sit in the marinade and the other one will go into the freezer for another time!
Ingredients:
1 cup sugar
1 cup soy sauce
1 cup pineapple juice
4 chicken breasts
Directions:
Mix marinade ingredients together and throw in a freezer bag with the chicken breasts. If you use it as a freezer meal, just defrost and cook as you please when ready to eat!
We'll serve this with some grilled pineapple – YUM!
TUESDAY: Balsamic Chicken (slow cooker) – This recipe was originally posted by Holly on theSimply Clean Living blog.  We've tried it a few times now and it is a hit with our family.  We were supposed to have it on Friday, but things didn't quite work out as planned.
Ingredients:
4 Boneless Skinless Chicken Breast Halves – approx. 1.5 to 2 lbs.
½ C. Olive Oil
½ – 1 C. Balsamic Vinegar – depending on how tangy you like the recipe
1 large can of diced tomatoes
1 can tomato sauce
3-4 cloves of garlic minced or pressed
2 t. crushed dry oregano
Combine all ingredients in Crockpot. Cook on low for 6-8 hours. Shred chicken with a fork and serve chicken and sauce over rice or angel hair pasta. The consistency and taste of the sauce is sweet and tangy like an Italian barbeque sauce.
WW points = 11 per serving (add 2 points for 1/2 cup pasta or rice or 4 points for 1 cup pasta or rice); NOTE:  cut the olive oil to 2 Tablespoons and it cuts this recipe to 5 points per serving!
WEDNESDAY: Our anniversary – out to dinner
THURSDAY: Melt in your mouth meatloaf (slow cooker) – I've made this several times now for our family.  It's easy to make, very kid friendly, and yummy!
Ingredients:
2 eggs
3/4 c. milk (we use skim)
2/3 c. seasoned bread crumbs
2 tsp dried, minced onion
1 tsp salt
1/2 tsp rubbed sage
1 1/2 pounds ground beef (we always make this with ground turkey instead and it's yummy!)
1/4 c. ketchup
2 T brown sugar
1 tsp ground mustard
1/2 tsp Worcestershire sauce
Directions
1. In a large bowl, combine the first six ingredients. Crumble beef over mixture and mix well (mixture will be moist.) Shape into a round loaf; place in a 5-qt. slow cooker. Cover and cook on low for 5-6 hours or until a meat thermometer reads 160 degrees F.
2. In a small bowl, whisk the ketchup, brown sugar, mustard and Worcestershire sauce. Spoon over the meat loaf. Cook 15 minutes longer or until heated through. Let stand for 10-15 minutes before cutting.
WW points = 5 per serving with the ground turkey, ground beef may be more (makes 6 servings)
Sides – Sour cream mashed potatoes (4 pts) and green beans (0 pts)
FRIDAY: Shepherd's Pie (Slow cooker) – This recipe comes from the 101 Things to Do With a Slow Cooker cookbook
Ingredients:
1 pound ground beef, browned and drained
1 can (10 ¾ ounces) tomato soup, condensed
1 can (15 oz) whole kernel corn, drained
1 can (15 oz) French cut green beans, drained
2 cups instant mashed potatoes, prepared
2 cups grated cheddar cheese
½ tsp. basil
In a separate bowl, combine beef, tomato soup, corn, beans, and basil.  Pour mixture in the bottom of a greased 3 ½ to 5 quart slow cooker.  Spread mashed potatoes on top.  Cover and cook on low heat 5-6 hours.  The last hour of cooking, sprinkle cheese on top of potatoes.
WW points = 9 per serving (for 4 servings)
SATURDAY: Pork sammies (slow cooker) – except for the rolls, this is all coming from our stockpile!
Ingredients:
2-3 lbs. boneless pork roast
2 onions, chopped (I omit this!)
12 oz. BBQ sauce of your choice
1/4 c. honey
rolls
Directions: Place meat in slow cooker. Add onions, bbq sauce and honey. Cover and cook on low for 6-8 hours. At that time the pork should break apart easily and shred with a couple of forks. After you shred it, serve it on rolls.
*Serving suggestion! Place provolone cheese slices on bolillo rolls along with mayonnaise. Toast the rolls open faced with cheese and mayo in a 350 degree oven for about 5-6 minutes before adding the pork and serving.

*This post may contain affiliate links. Please refer to my disclosure policy for more information