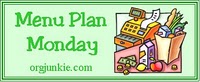 Happy 4th of July!  I hope everyone has a fun and relaxing day planned with family and friends!
The plan listed here just includes our dinner menu and recipes. I have calculated some Weight Watchers points values using the e-tools Recipe Builder, and points values this week are based on the new Points Plus program! (I will update with points values on the others as we have the meals)
If you've been reading my blog for awhile, then you know that for the past two years, I have done a $40 weekly budget. With the changes to our eating habits, I'm going to increase our budget to $50 per week and I'm really going to try to stick to that, but I'm not even sure that will be enough. This will be a trial and error experience, so stay tuned!
If you're new to menu planning or would like tips for getting started, check out this post here.  You can also view hundreds of meal plans each week at Orgjunkie.com
SUNDAY: Melt in your mouth meatloaf (slow cooker) – I've made this several times now for our family.  It's easy to make, very kid friendly, and yummy!
Ingredients:
2 eggs
3/4 c. milk (we use skim)
2/3 c. seasoned bread crumbs
2 tsp dried, minced onion
1 tsp salt
1/2 tsp rubbed sage
1 1/2 pounds ground beef (we always make this with ground turkey instead and it's yummy!)
1/4 c. ketchup
2 T brown sugar
1 tsp ground mustard
1/2 tsp Worcestershire sauce
Directions
1. In a large bowl, combine the first six ingredients. Crumble beef over mixture and mix well (mixture will be moist.) Shape into a round loaf; place in a 5-qt. slow cooker. Cover and cook on low for 5-6 hours or until a meat thermometer reads 160 degrees F.
2. In a small bowl, whisk the ketchup, brown sugar, mustard and Worcestershire sauce. Spoon over the meat loaf. Cook 15 minutes longer or until heated through. Let stand for 10-15 minutes before cutting.
WW points = 5 per serving with the ground turkey, ground beef may be more (makes 6 servings)
Sides – Sour cream mashed potatoes (4 pts) and green beans (0 pts)
MONDAY: BBQ! We're having a family BBQ
Pizza Pasta salad – I've been using this recipe from Favorite Family Recipes for awhile now and it's always a hit.  I haven't been able to find the Bernstein's dressing, so I just use fat free Zesty Italian.
Ingredients:
1 bag colored spiral noodles
¾ c. pepperoni cut into wedges
¾ c. mozzarella cut into small cubes
¾ c. fresh tomatoes, diced
½ c. olives, sliced
¼ c. parmesan cheese
1 bottle Bernstein's Restaurant Recipe Italian Dressing
Mix together all ingredients and chill in the fridge for at least 3 hours before serving. We like to put it in a tupperware container with a tight lid and flip it upside down, then right side up a few times while it is chilling to distribute the dressing into the pasta better.
Better than Almost Anything Cake ~ Another family favorite – it's easy to make and so moist!
Ingredients:
1 box Betty Crocker® SuperMoist® German chocolate cake mix
Water, vegetable oil and eggs called for on cake mix box
1 can (14 oz) sweetened condensed milk
1 jar (16 to 17 oz) caramel, butterscotch or fudge topping
1 container (8 oz) frozen whipped topping, thawed
1 bag (8 oz) toffee chips or bits
Heat oven to 350°F (325°F for dark or nonstick pan). Bake cake as directed on box for 13×9-inch pan. Poke top of warm cake every 1/2 inch with handle of wooden spoon. Drizzle milk evenly over top of cake; let stand until milk has been absorbed into cake. Drizzle with caramel topping. Run knife around sides of pan to loosen cake. Cover and refrigerate about 2 hours or until chilled. Spread whipped topping over top of cake. Sprinkle with toffee chips. Store covered in refrigerator.
TUESDAY: Alisa's Mexican Pulled Pork – Marci posted this on her blog while ago – it's YUMMY!
Ingredients & Directions:
– 1 Pork Loin
– Put the pork loin on your oven broiler tray and broil for 20-40 mins at 400 degrees until browned (The longer you cook it in the over the quicker it will cook in the crock pot, but the crock pot makes the meat tender).
– Slice into the meat in several places. Put browned meat into the crock pot and add tomato sauce until covered (if you like your meat extra saucy add more).
– Add onions, garlic, adobo seasoning (Goya makes a good one), chili powder, salsa, and cumin all according to your tastes. You could also just add a can of canned enchilada sauce or tomato sauce and a packet of taco seasoning.
– Let the meat cook for several hours (at least 4 or 5, but you can leave it in on low all day long) Stir and check fluid levels every couple of hours.
– Slice and tear with fork when tender. You know the meat is completely done when it shreds easily with a fork.
– Meat can be used for tacos, enchiladas, nachos or anything else Mexican. I usually make more than we need. I freeze half it and then keep the rest for various Mexican meals through out thought the week.
WEDNESDAY: Chicken & dumplings (slow cooker)
Ingredients:
4 skinless, boneless chicken breasts
2-3 carrots, sliced
2-3 celery stalks, sliced
1 onion, diced
1 can chicken broth
1 can cream of chicken soup (I use 98% fat free)
1 tsp salt, optional
1 tsp garlic powder
1/4 tsp pepper
paprika
2 pkg refrigerated biscuit dough, torn in pieces (I only use one)
Place chicken, vegetables, soups & seasonings in crockpot and fill with enough water to cover.  Cover with lid and cook on low 5-6 hours.  About 30 minutes before serving, place the torn biscuit dough into the crockpot.  Cook until the dough is no longer raw in the center.
NOTE:  If I don't have time for the biscuits to cook in the slow cooker, I just cook them in the oven and then tear up the biscuits and add them.
THURSDAY: Chicken & pea pods
FRIDAY: Peppered steak – this is a family recipe that came from my mother in law
Ingredients:
3 cups hot cooked rice
1 lb lean beef round steak (cut into 1/2 inch thick strips)
1 T Paprika
2 T butter
2 cloves garlic, crushed
1 1/2 c. beef broth
1 cup sliced green onions
2 green peppers, cut in strips
2T cornstarch
1/4 c. water
1/4 c. soy sauce
2 lg tomatoes (cut in eighths)
Pound steak to 1/4 inch thick. Cut into 1/4 inch wide strips. Sprinkle meat with paprika. Let stand. Brown meat in butter. Add garlic and brother. Cover and simmer for 30 minutes. Stir in onions and green peppers. Cover and cook 5 minutes. Blend cornstarch, water and soy sauce. Stir into meat mixture. Cook, stirring until clear and thickened, about 2 minutes. Add tomatoes and stir gently. Serve over beds of fluffy rice.
WW points = 7 points/serving  (add an additional 3 points for 1/2 cup rice and 5 points for 1 cup rice), this makes 4 servings.
SATURDAY:  Chicken Taco Rice – I got this recipe from a freezer swap awhile ago – it's easy to make and everyone loves it!
Ingredients:
2 cups cooked, shredded chicken
3 cups Chicken broth
8 oz. Tomato sauce
1 pkg. Taco seasoning mix
1-1/2 Brown rice, uncooked
1/2 cup Red or Green Pepper
1 can of corn
On Hand:
Shredded cheddar cheese
Optional Ingredients:
Tortilla chips, flour tortillas, tomatoes, lettuce, salsa, etc.
Assembly Directions:
Mix everything in a large saucepan. Bring to a boil. Cover, reduce heat and simmer until rice is done (about 40-50 minutes). Remove from heat and let stand 5 minutes. Fluff with a fork.
Freezing Directions:
Allow rice mixture to cool. Place in appropriate sized containers. Seal, label and freeze.
Serving Directions:
Thaw in the refrigerator. Reheat in microwave until warm. You can also reheat it in a saucepan if you add a little bit of water before heating. Sprinkle cheese on top and serve with tortilla chips.
*This post may contain affiliate links. Please refer to my disclosure policy for more information