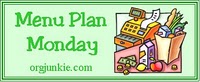 Three more weeks of school (work) for me!  This is our quick and easy meal plan to get us through the week!
The plan listed here just includes our dinner menu and recipes. I have calculated some Weight Watchers points values using the e-tools Recipe Builder, and points values this week are based on the new Points Plus program! (I will update with points values on the others as we have the meals) Both kids eat breakfast at home, but my son eats lunch at daycare, my daughter eats lunch at
If you've been reading my blog for awhile, then you know that for the past two years, I have done a $40 weekly budget. With the changes to our eating habits, I'm going to increase our budget to $50 per week and I'm really going to try to stick to that, but I'm not even sure that will be enough. This will be a trial and error experience, so stay tuned!
If you're new to menu planning or would like tips for getting started, check out this post here.  You can also view hundreds of meal plans each week at Orgjunkie.com.
MONDAY: Country Ham and Macaroni Casserole – Every time I ask my family to help out with menu planning and give me recipe suggestions, this is always one of the things they choose.  My daughter's birthday is todayand this was what she picked!
Thanks to Sandy~Bettyinthekitchen (BabyCenter.com Cooking for Your Family Board)
Ingredients:
1 lb country ham slices or regular smoked ham in one piece (I just use whatever leftover ham we have on hand)
1 large onion, diced
1 lb elbow macaroni (whole wheat)
2 cups shredded extra sharp cheddar cheese (8 oz) – I use reduced fat
1 cup sour cream (I use reduced fat)
1 can cream of chicken soup (I use 98% fat free)
1/4 cup (1/2 stick) margarine, melted (I don't use this when I make it)
1 cup dry plain bread crumbs
1. Heat oven to 400º.
2. Bring 4 quarts water and ham to boiling in large pot. Once water begins to boil,
remove ham to a plate. Add onion and macaroni to pot. Return water to boiling; cook 8 minutes, stirring occasionally.
3. Coarsely chop ham, discarding any fat and bones.
4. Drain macaroni and onion and return to pot. Add ham, cheese, sour cream and soup. Scrape into a 13x9x2 baking dish. Pour melted margarine over top. Sprinkle with bread crumbs.
5. Bake in heated 400º oven 30 minutes or until heated through and top is golden brown.
Let stand 5 minutes before serving.
Note: Prepare in two 8×8 casserole dishes, bake one and freeze one (unbaked) for another day. If freezing, top with crumbs and margarine right before baking.
WW points = 9 points per serving (with modifications above), makes 6 servings
TUESDAY ~Melt in your mouth meatloaf (slow cooker) – I've made this several times now for our family.  It's easy to make and yummy!
Ingredients:
2 eggs
3/4 c. milk (we use skim)
2/3 c. seasoned bread crumbs
2 tsp dried, minced onion
1 tsp salt
1/2 tsp rubbed sage
1 1/2 pounds ground beef (we always make this with ground turkey instead and it's yummy!)
1/4 c. ketchup
2 T brown sugar
1 tsp ground mustard
1/2 tsp Worcestershire sauce
Directions
1. In a large bowl, combine the first six ingredients. Crumble beef over mixture and mix well (mixture will be moist.) Shape into a round loaf; place in a 5-qt. slow cooker. Cover and cook on low for 5-6 hours or until a meat thermometer reads 160 degrees F.
2. In a small bowl, whisk the ketchup, brown sugar, mustard and Worcestershire sauce. Spoon over the meat loaf. Cook 15 minutes longer or until heated through. Let stand for 10-15 minutes before cutting.
WW points = 5 per serving with the ground turkey, ground beef may be more (makes 6 servings)
Sides – Sour cream mashed potatoes (4 pts) and green beans (0 pts)
WEDNESDAY ~ Beef tips (slow cooker) – I found this recipe in Taste of Home Magazine. I haven't tried it before, but it looked and sound good, and it's in the slow cooker, so it's a hit with me already!
Ingredients:
1 beef top sirloin steak (1 pound), cut into 1-inch cubes
2 to 3 medium carrots, chopped
1 to 1-1/2 cups chopped celery
1 cup chopped onion
1 can (10-3/4 ounces) condensed golden mushroom soup, undiluted
1/2 to 1 cup white wine or beef broth
2 teaspoons cornstarch
1/4 cup cold water
Hot cooked egg noodles
Directions:
In a 3-qt. slow cooker, combine the beef, carrots, celery, onion, soup and wine or broth. Cover and cook on low for 6-7 hours or until meat is tender.
Combine cornstarch and water until smooth; gradually stir into cooking juices. Cover and cook on high for 15 minutes or until thickened. Serve with noodles. Yield: 4 servings.
THURSDAY ~ Country Style Pork Loin (slow cooker)
Country-Style Pork Loin
Katie (Katiedid) from Taste of Home
1 boneless whole pork loin roast (3 pounds)
1/2 cup all-purpose flour
1 teaspoon onion powder
1 teaspoon ground mustard
2 tablespoons canola oil
2 cups chicken broth
1/4 cup cornstarch
1/4 cup cold water
Hot mashed potatoes, optional
Cut pork roast in half. In a large resealable plastic bag, combine the flour, onion powder and mustard. Add pork, one portion at a time, and shake to coat. In a large skillet, brown pork in oil over medium-high heat on all sides. Transfer to a 5-qt. slow cooker. Pour broth over pork. Cover and cook on low for 5-6 hours or until tender. Remove pork and keep warm. For gravy, strain cooking juices and skim fat; pour 2-1/2 cups cooking juices into a large saucepan. Combine cornstarch and water until smooth; stir into juices. Bring to a boil; cook and stir for 2 minutes or until thickened. Slice pork; serve with gravy and mashed potatoes if desired. Yield: 8 servings.
FRIDAY ~ Balsamic Chicken (slow cooker) – This recipe was posted by Holly on the Simply Clean Living blog.  We've tried it a few times now and it is a hit with our family.
Ingredients:
4 Boneless Skinless Chicken Breast Halves – approx. 1.5 to 2 lbs.
½ C. Olive Oil
½ – 1 C. Balsamic Vinegar – depending on how tangy you like the recipe
1 large can of diced tomatoes
1 can tomato sauce
3-4 cloves of garlic minced or pressed
2 t. crushed dry oregano
Combine all ingredients in Crockpot. Cook on low for 6-8 hours. Shred chicken with a fork and serve chicken and sauce over rice or angel hair pasta. The consistency and taste of the sauce is sweet and tangy like an Italian barbeque sauce.
WW points = 11 per serving (add 2 points for 1/2 cup pasta or rice or 4 points for 1 cup pasta or rice); NOTE:  cut the olive oil to 2 Tablespoons and it cuts this recipe to 5 points per serving!
SATURDAY ~ Lasagne – I use the recipe from the back of the Barilla no-bake noodles box!
*This post may contain affiliate links. Please refer to my disclosure policy for more information