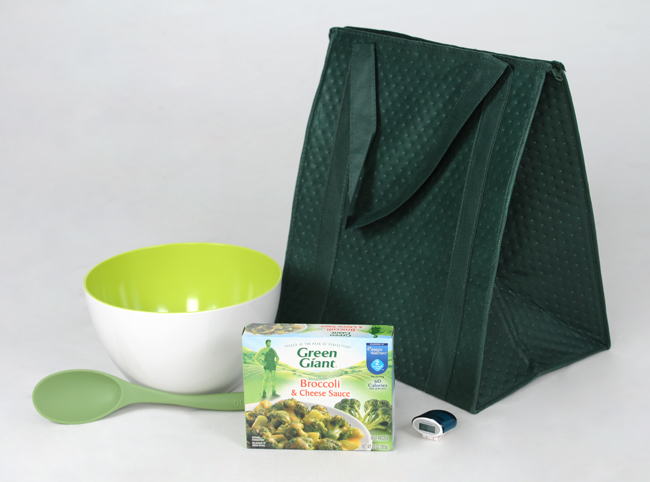 If you've been reading my blog for long and you follow my Menu Planning Monday posts, then you know that I am trying to find healthier meal options for my family this year.  Since I work full time and have two kids, I'm also always game for anything that's a "quick fix"
Green Giant boxed vegetables offer both!  Green Giant boxed vegetables can help you stay on track and achieve your weight management goals.  Twenty-nine of their varieties are endorsed by Weight Watchers and have only 1 or 2 PointsPlus values per serving!
Green Giant, via My Blog Spark, sent me a box of Green Giant boxed vegetables (broccoli and cheddar variety) to try.  It was a hit with my entire family and now we're hooked!  Thankfully, there have been lots of great deals on these lately, so they're "budget friendly" too!
Green Giant (through My Blog Spark) is also providing me with a prize pack to give away to one lucky reader!  The prize pack includes an insulated tote bag, serving bowl, spoon, and pedometer. You will also get a VIP coupon so you can try out Green Giant boxed vegetables yourself!
The giveaway starts today, April 4th, and will end on Monday, April 11th at 11:59 p.m. CT. I will announce the winner on Tuesday, April 12th. The winner will be chosen randomly using random.org.
You will have 24 hours to provide me with your contact information (when you post to enter, you must leave your e-mail address or some other way for me to contact you!).
Here's how you can enter to win:
1.  Share – Which is your favorite Green Giant boxed vegetable (or which one would you most like to try?)
2. Subscribe to my blog (You must activate your subscription to validate your entry). Please post a comment letting me know that you subscribe.
3. Follow my blog through Blogger or become a fan on Facebook. Leave an entry letting me know that you're following!
4. Blog about the giveaway on your blog. Be sure to come back and post a link to your post!
Please create a separate post for each of your entries. If you win, you need to provide me with some way to contact you. (Remember, if you post a comment as "anonymous" you need to include some sort of identifying information or your entry will not be valid). If you're accessing this through a live feed somewhere else, you will need to actually come here to enter the giveaway.

Thanks again to Green Giant and MyBlogSpark for this giveaway opportunity! (Please note that although I did receive a prize pack from Green Giant and My Blog Spark, they did not influence my comments in any way.  Please refer to my disclosure policy for more information.)

*This post may contain affiliate links. Please refer to my disclosure policy for more information.