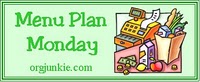 My kids have activities EVERY single week night this week (including Friday), which means I have limited time at home to cook before we start running around for the night! Because I'm a little crazy I've decided to start low carb eating this week, too.  I know that in order to be successful, my ENTIRE family would need to participate and to get the kids on board, I got them involved with the menu planning this week.
Looking for Advocare 24 Day Challenge recipes?  Check them out here:
See my menu plans from previous weeks here–> Menu Planning Monday
You can also view hundreds of meal plans each week at Orgjunkie.com
Do you like what you see here?  Make sure you also check out my favorite recipes board on Pinterest–> Melissa's Bargains favorite recipes on Pinterest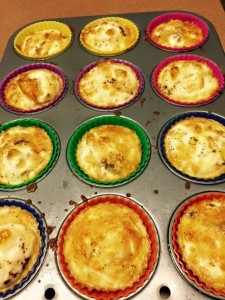 SUNDAY:  Low Carb Sausage Breakfast Muffins – I am used to grab and go breakfasts like cereal or Jimmy Dean breakfast sandwiches.  These Low Carb Sausage Breakfast Muffins were SO easy to make and now I've got some left to microwave throughout the rest of the week!
MONDAY:  Chicken veggie stir fry and egg drop soup  – Super easy to make – I just cook the chicken in soy sauce and add in our favorite veggies (tonight will be fresh green beans, broccoli, celery, and a few carrots).  The egg drop soup is easy, too!  All you need is chicken broth and eggs!
TUESDAY:  Chicken fajitas with homemade guacamole, sour cream, and low carb tortillas – I'll be making these with my new Lodge Cast Iron Grill pan!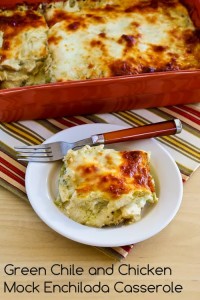 WEDNESDAY:  Green Chile Mock Enchilada Casserole – I LOVE Mexican food and one of the thing I was most worried about in starting this low carb adventure was having to give it up completely.  I'm so glad I've been able to find some low carb alternatives and this Green Chile Mock Enchilada Casserole from Kalyn's Kitchen looks like a WINNER!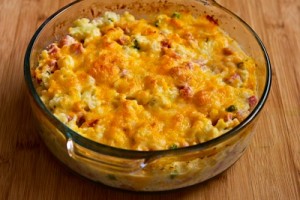 THURSDAY:  Ham Cauliflower Cheese Bake – My kids LOVE macaroni and cheese.  I found this recipe on Kalyn's Kitchen again and I'm hoping I can convince my son especially that it's a good alternative 🙂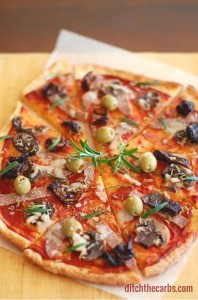 FRIDAY:  Low Carb Pizza – Friday nights have often turned in to "pizza" nights.   This low carb pizza recipe from Ditch the Carbs has gotten rave reviews and we can't wait to check it out!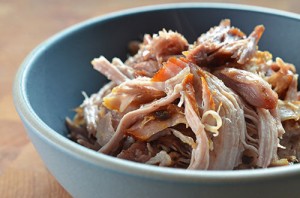 SATURDAY: Slow Cooker Kahlua Pork – I've tried variations of this recipe in the past.  The hardest part will be eating it without the rice!  We got this recipe from Nom Nom Paleo.