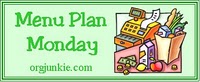 This week I had to put a LOT of planning into my meal planning.  I'm starting the Advocare 24 Day Challenge  You can find out more about that here-> Join me in the Advocare 24 Day Challenge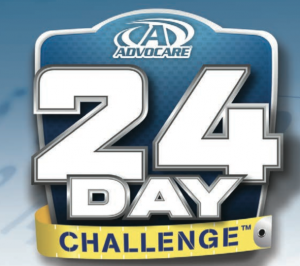 I've learned that one of the biggest things that will make or break weight loss is being PREPARED!  So, I planned out my breakfasts, lunches, dinners, and even snacks for the whole week!  You can see my full menu here-> Advocare 24 Day Challenge Menu Week 3
See last week's menu here–> Advocare 24 Day Challenge Menu Week 2 (yes, there are some similarities with breakfast and lunch)
See the previous week's menu here–> Advocare 24 Day Challenge Menu (yes, there are some similarities with breakfast and lunch)
See my menu plans from previous weeks here–> Menu Planning Monday
You can also view hundreds of meal plans each week at Orgjunkie.com
Do you like what you see here?  Make sure you also check out my favorite recipes board on Pinterest: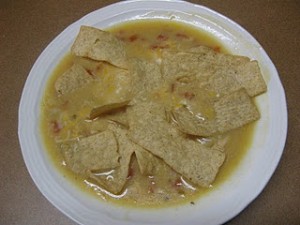 SUNDAY:  Slow Cooker Chicken Tortilla soup – I got hit hard by my first sinus infection of the season and all I wanted was SOUP.  I really wanted chicken noodle soup, but I figured with all of the noodles that probably wasn't the best bet.  When I figured out the calories per serving for this soup using My Fitness Pal, I was surprised to find out that it's only 119 calories per serving!  I used low fat and low sodium chicken broth and cream of chicken.  I skipped the cheese that I'm used to adding, but did treat myself to one spoonful of sour cream (it was reduced fat and only 20 calories) and 3 tortilla chips!  It hit the spot!
MONDAY: Slow Cooker Balsamic Chicken and Spring Vegetables – This is a new recipe for me, but it sounds yummy.  I can't wait to see how it turns out!  I'll be serving it with a side of brown rice.
TUESDAY:  Chicken Spinach Parm – This is another new recipe.  It sounds yummy to me.  I'm not sure my husband or son will be crazy about it, but we will see.
WEDNESDAY:  Slow cooker shredded lime tacos – I first discovered these on a friend's blog.  They are easy to throw together and yummy, too!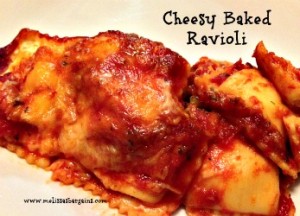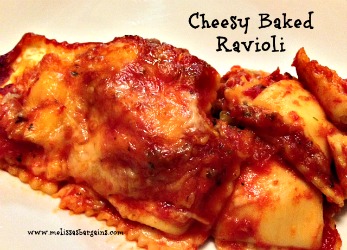 THURSDAY:  Baked Ravioli – This is totally NOT on my diet, but it's something I can throw together before I leave and my husband can heat it up and feed it to the kids.  I'll be at a blogging conference.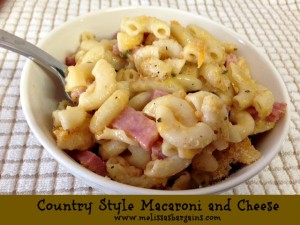 FRIDAY:  Country Style Macaroni – My kids and husband will be able to enjoy all of their favorites while I'm at a conference this weekend!  I will also make this before I leave for the day and my husband can just throw it in the oven and feed the kids when they all get home.
SATURDAY:  Baked Orange Chicken – I love orange chicken and I've been missing it.  I found this baked version and can't wait to check it out.