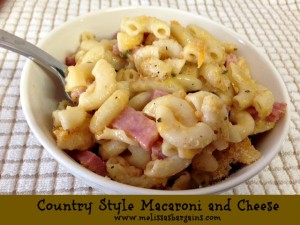 I first discovered this recipe on a Babycenter.com Cooking for Your Family message board several years ago.  It has become one of my kids favorite recipes.  They choose it for birthdays, back to school dinners, and any time that I ask for their input on our weekly menu.  It's also a great way to use up extra ham!
Make sure you check out my Favorite Recipes board on Pinterest for more kid friendly recipes–> Melissa's Bargains Favorite Recipes
Here's how you can make Country Style Macaroni and Cheese:
Country Style Macaroni and Cheese Recipe
Author:
Melissa's Bargains
Prep time:
Cook time:
Total time:
Quick and Easy Macaroni & Cheese Recipe!
Ingredients
1 lb country ham slices or regular smoked ham in one piece (I just use whatever leftover ham we have on hand)
1 lb elbow macaroni (I use whole wheat)
2 cups shredded extra sharp cheddar cheese (8 oz) (I use reduced fat)
1 cup sour cream (I use reduced fat)
1 can cream of chicken soup (I use 98% fat free)
¼ cup (1/2 stick) margarine, melted (I don't use this when I make it)
1 cup dry plain bread crumbs
1 tsp diced onions or onion powder
1 tsp garlic salt
salt and pepper to taste
Instructions
Pre-Heat oven to 400º.
Bring 4 quarts water to boiling in large pot. Once water begins to boil,
add macaroni to pot. Return water to boiling and cook 8 minutes, stirring occasionally.
While the macaroni noodles are cooking, coarsely chop the ham.
Drain macaroni.
In a large mixing bowl, combine macaroni, ham, ½ of the cheese, sour cream, soup, onion powder, garlic salt, and salt and pepper. Mix well.
Place the mixture in a 13X9 baking dish. Sprinkle the remaining cheese over the top and then sprinkle with bread crumbs.
Bake at 400º for 30 minutes or until heated through and top is golden brown.
Let stand 5 minutes before serving.