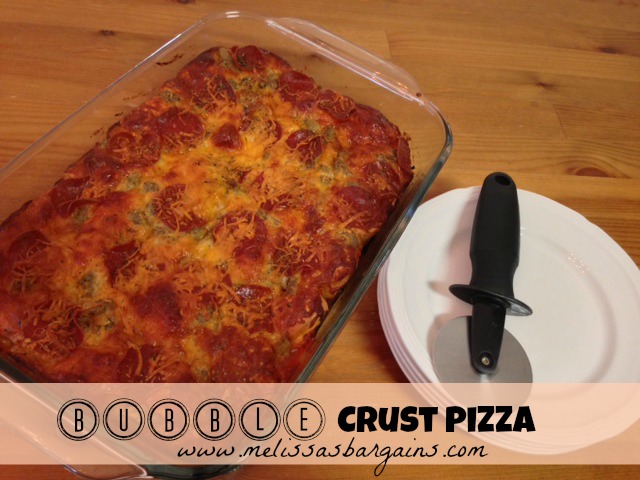 My kids love helping in the kitchen and I'm always on the look-out for new "kid friendly" recipes that they can help with, if you're looking for cooking with kids ideas, this Bubble Crust Pizza recipe is a great choice!  I don't think you can ever go wrong mixing kids and pizza!
See more of my favorite recipes here–> Melissa's Bargains Favorite Recipes on Pinterest
Bubble Crust Pizza Recipe
Prep time:
Cook time:
Total time:
Fun cooking with kids recipe! Make pizza using refrigerated biscuits!
Instructions
Preheat the oven to 350 degrees.
Spray a 9X13 baking pan with nonstick cooking spray
Cut biscuits into pieces and place along the bottom of the baking pan until the entire surface is covered.
Spread pizza sauce over the top.
Cover with mozzarella cheese.
Cover with toppings of choice.
Cover with colby jack cheese.
Sprinkle Italian seasoning over the top
Bake, uncovered, for 35 minutes or until the top is golden and bubbly (check the dough in the center to make sure it is cooked through)