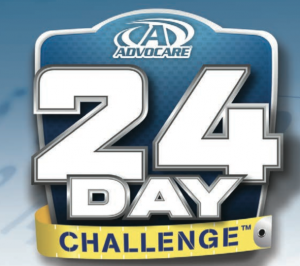 If you've been a reader for awhile, then you know that my weight has been an ongoing struggle for me.  I became a lifetime Weight Watchers member in 2000, so that HAS worked for me in the past, but it's just not working for me now.  I think part of the reason for that is because I haven't had time to attend the meetings and get that group motivation.  Several of my co-workers began using Advocare last year.  My principal started around Thanksgiving and has now lost 100 pounds!  Several other co-workers have had great results, too!  Still, I put off trying it myself.  I kept thinking that I KNOW what I need to do to lose weight and that I've been able to do it before. There's a time and a season for everything, though and what has worked for me in the past, for whatever reason or reasons, is not working for me now.  When a co-worker gave me the opportunity to take the Advocare 24 Day Challenge, I decided to take him up on it.
If you've ever struggled with weight issues, then you know a big part of weight loss is your MINDSET.  You have to be committed and ready to change.  I think I'm at that place now.  I spent the whole weekend planning out a menu (I've learned that being organized when it comes to food is a HUGE part of being successful with weight loss) and buying all the groceries!  You can see my menu for the week here–> Menu Planning Monday:  Starting my Advocare 24 Day Challenge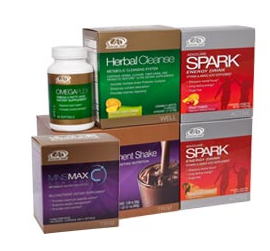 The Challenge consists of 2 phases.  The first 10 days are the "Cleanse Phase" and the focus is removing waste and preparing for optimal nutrient absorption.  The second phase is the Max Phase (days 11-24) where you focus on working toward your weight management goals!
The thing I love about this program is that it's not a "diet"  It's focused on helping you make a lifestyle change which includes exercise, managing daily water intake and eating healthy foods.  There are handy checklists to help you monitor your progress   The challenge is PERFECT for people who are trying to jump start weight loss (like me) or for people who have hit a weight loss plateau and want to break through it!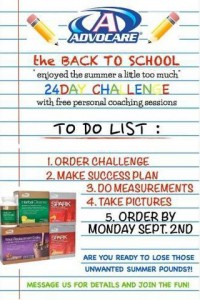 To find out more about the Advocare 24 Day Challenge or to join me in the challenge, click here-> Advocare 24 Day Challenge
Each 24-Day Challenge includes:
One box of Herbal Cleanse-Citrus
One bottle of OmegaPlex®
One box of AdvoCare Spark®-Mandarin Orange
One box of AdvoCare Spark®-Fruit Punch
Your choice of one box of Meal Replacement Shakes – Chocolate Mocha, Chocolate, Vanilla, Berry or Non-Dairy Dark Chocolate
Your choice of one box of MNS® Max 3, C, or E
I'm excited to update you on my progress and to share my results!! I'll be sharing my weekly results in my Weight Loss Wednesday posts
DISCLOSURE: I received the 24 Day Challenge products for free. All opinions are 100% mine.