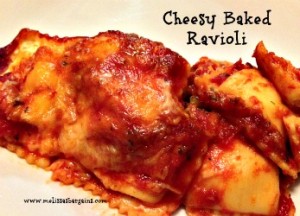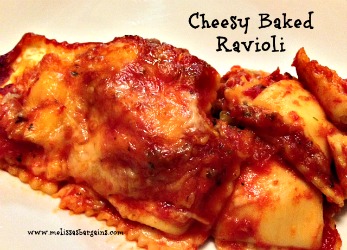 I first found this Baked Ravioli recipe on Pinterest a few months ago. I tried it and it was OK, but I decided to give it another shot because I learned a few things the first time around and I'm so glad I did because it was a hit!  I love this one because it's quick and easy to throw together!
Cheesy Baked Ravioli
Author:
Melissa's Bargains
Prep time:
Cook time:
Total time:
Easy baked ravioli recipe
Ingredients
1 bag frozen ravioli (25 oz)
1 jar pasta sauce from the brand of your choice (26 oz)
8 oz. shredded mozzarella or Italian blend cheese
Parmesan cheese
Instructions
Preheat the oven to 400 degrees.
Spread some sauce along the bottom of a 9X13 baking dish.
Layer the frozen ravioli on top of the sauce. I recommend putting them in rows that line up. I didn't do this the first time around and it didn't turn out as well.
Once you have completed one layer, pour half of the sauce over the top and then sprinkle with cheese.
Add a second layer on top of the first layer. Cover with the remaining sauce and cheese and then sprinkle parmesan cheese over the top.
Cover with foil and bake at 375 degrees for 30 minutes.
Remove foil and bake for 10-15 more minutes until the top is golden and bubbly.
This is great with a "green" veggie like asparagus or green beans as a side!
See more recipes here–> Recipes