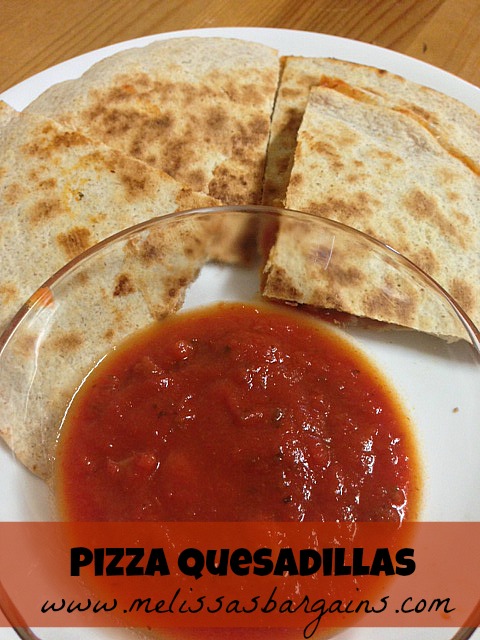 If your kids have been bombarding you with the "What's for Lunch" question and you're tired of sandwiches or the same old thing over and over again, here's a fun lunch idea and the best part is that your kids can help prepare it!  My kids LOVED these!
See more of my favorite recipes here–> Melissa's Bargains Favorite Recipes on Pinterest
Pizza Quesadillas
A fun lunch idea for kids! They can even help prepare it!
Ingredients
2 tortillas per quesadilla (we used whole wheat tortillas)
Toppings of choice (we used pepperoni and sausage)
Shredded mozzarella cheese
Pizza sauce (for dipping)
Instructions
Spray your frying pan with Pam cooking spray.
Place a tortilla in the frying pan.
Spread toppings of choice on the tortilla and then sprinkle choose over the top (NOTE: You may want to add pizza sauce on the tortilla before the toppings or you can just use it as a dipping sauce when you're eating)
Place the 2nd tortilla on top.
Cook for 3-5 minutes until the cheese starts to melt and the bottom tortilla is brown. Flip and cook for another 3-5 minutes until the other side is brown.
Cool, cut into quarters with a pizza cutter and serve!