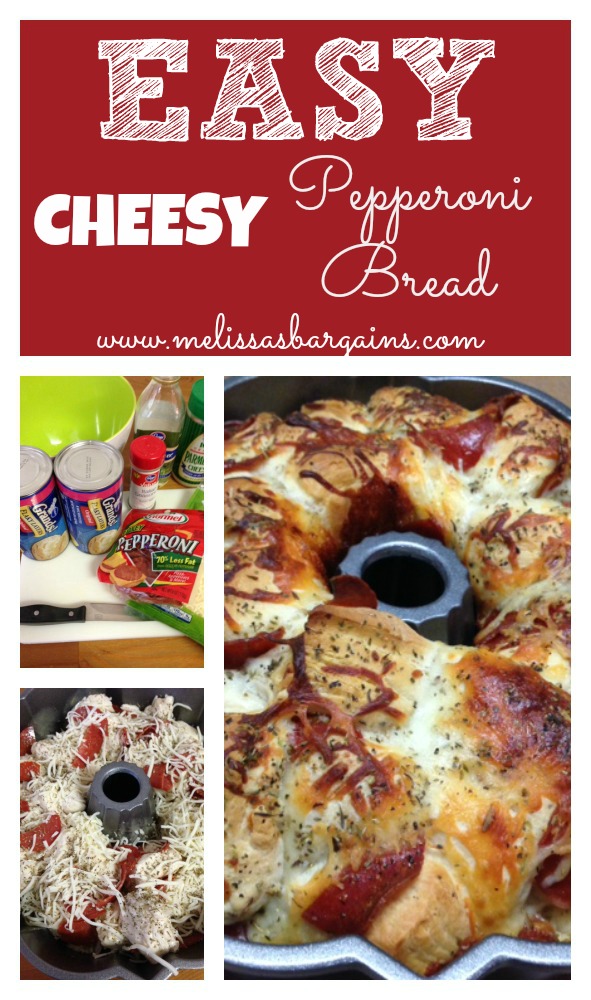 My family LOVES monkey bread and they love pizza, so I figured this would be the best of both worlds! This Easy Cheesy Pepperoni Bread was so easy to make (and the kids can help cook, too!) and everyone LOVED it! We will definitely be making it again!  This is a recipe you want to serve basically straight from the oven (give it a few minutes to cool so little fingers don't get burned).  I'm hungry just thinking about it.
Here are a few more recipes your family might enjoy:
EASY Cheesy Pepperoni Bread!
Author:
Melissa's Bargains
Prep time:
Cook time:
Total time:
Easy Cheesy Pepperoni bread – kid friendly!
Ingredients
2 cans biscuits (I used Grands)
1 package pepperoni (I used Turkey Pepperoni)
2 cups shredded mozzarella cheese
Italian seasoning
Parmesan cheese
⅓ cup Olive Oil
Instructions
Preheat the oven to 350 degrees.
Cut biscuits into quarters and cut pepperoni pieces in half.
Mix biscuits, pepperoni slices, and olive oil together.
Spray a bundt pan and layer the biscuits/pepperoni mixture with the cheese. Sprinkle Italian seasoning over each layer.
Bake for 30-35 minutes (until the top is golden brown)
Remove from oven and place on a serving dish.
Serve with dipping sauces such as pizza/marinara sauce or ranch dressing.