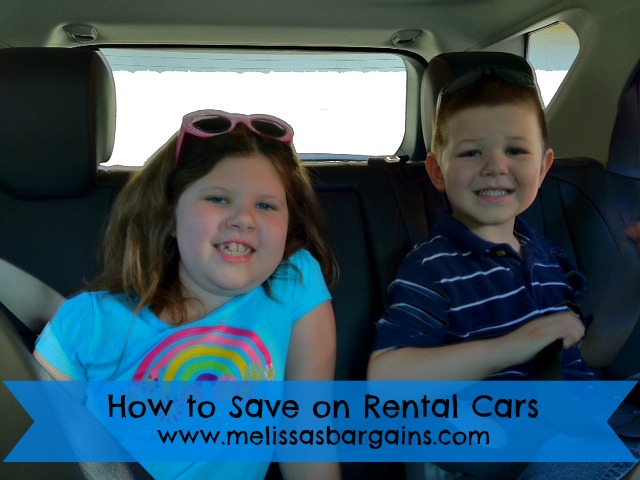 This post is reader inspired!  If you're planning a road trip and don't want to use your own vehicle, find out how to save on rental cars!  When we're planning a road trip, we often use rental cars to save wear and tear on our own vehicles!  If you are flying, but need a vehicle once you reach your destination, rental cars are great, too!
Are there coupon codes for rental cars?
The answer is yes, but you actually may not get the biggest savings by using a coupon code.  Coupon codes often come with a lot of restrictions including the dates when they can be used and the types of cars that they can be used on.  They are usually limited to economy or compact vehicles.  I have also noticed that companies will often raise their rates, so once you apply the coupon code, you aren't saving much and end up paying about the same amount that you would have paid without the coupon code.  If you are interested in finding coupon codes for rental car companies, check out sites like Retailmenot.com
Use your Costco or Sam's Club membership
If you have a Costco or Sam's Club membership, check out their travel services area and price rental cars!  The past few times we have rented a car, we have gotten our biggest savings using our Costco membership!
Use a discounted travel site
Use a site that specializes in discounted travel deals such as Hotwire.com or Priceline.com  See what rates they have available or you can name your own price, too!  I have rented several cars using these services and have gotten them from well-known companies such as Hertz and Avis!
Here are some things to remember when renting a car:
Read the fine print – Make sure there are no limitations on mileage and that you can travel between states with no penalties
Decide what size is right for you – Descriptions of rental car sizes can vary from company to company.  Make sure the car that you're renting is big enough to accommodate your needs.
Make sure your car insurance will cover you – Find out if your car insurance will provide coverage for you while you are driving a rental car.  If not, the rental companies usually offer discounted policies.
Fill the car with gas before you return it – Car rental companies charge premium rates (close to $7 per gallon!) if they have to put gas in the car.  I forgot once and I will never make that mistake again!