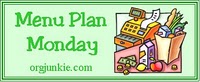 My summer vacation has FINALLY started!  I don't want to waste time cooking (and it's too hot for that anyway), so here are some of my slow cooker and quick fix summer recipe ideas!
Looking for Advocare 24 Day Challenge recipes?  Check them out here:
See my menu plans from previous weeks here–> Menu Planning Monday
You can also view hundreds of meal plans each week at Orgjunkie.com
Do you like what you see here?  Make sure you also check out my favorite recipes board on Pinterest–> Melissa's Bargains favorite recipes on Pinterest
SUNDAY:  Spaghetti – I asked my husband and dad what they wanted for their Father's Day dinner and they chose spaghetti!  I'm not complaining.  Sometimes it's nice to keep things simple.
MONDAY:  Slow Cooker Turkey Chili – Even though I'm done with work now, sometimes it's nice to have dinner ready for you at the end of the day without putting a whole lot of effort into it (or having much to clean up)
TUESDAY: Slow Cooker Cream Cheese Chicken – Yes, you read that right.  CREAM CHEESE.  How could you go wrong?  Plus, it's a slow cooker recipe, so it's an added bonus!  This recipe is a family favorite and it's been a LONG time since I made it.  People have been known to lick their plate clean..it's that good.
WEDNESDAY:  Slow Cooker Coke Meatballs – I have figured out that my family loves pretty much anything involving meatballs. When I find something that I can feed to everyone without any complaints, I go with it! This is a new recipe we're trying out this week.
THURSDAY:  Grilled Cheese Sandwiches & Tomato Soup – keeping it simple!
FRIDAY:  Taco Salad – This is a recipe my mom always used to make growing up that's perfect for those hot summer months.  I realized that I hadn't made it in years.  Recipe to come!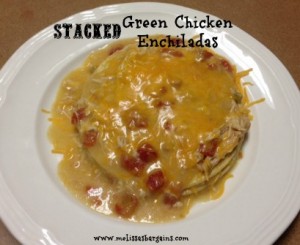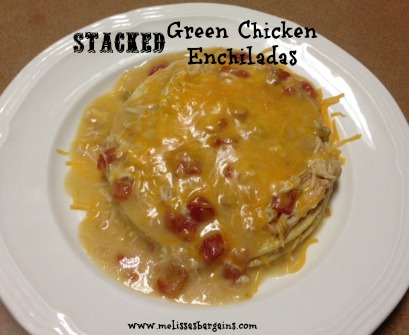 SATURDAY:  Stacked Green Chicken Enchiladas – Perfect when you need an enchilada "fix" but you don't have a lot of time!