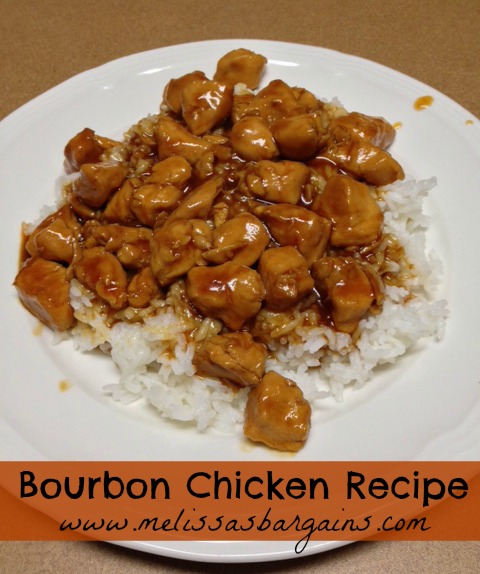 I used to make this recipe for our family pretty often, but it had been awhile and I ran across it searching through old menu plan posts.  It was a hit with everyone except my five year old, who honestly won't eat much these days.  I love it because it's relatively easy to prepare, too!
Recipe Review: Bourbon Chicken!
Prep time:
Cook time:
Total time:
Ingredients
1½-2 lbs boneless, skinless chicken breasts (cut into bite size pieces)
1-2 T olive oil
1 garlic clove, crushed
¼ tsp ginger
¾ tsp crushed red pepper flakes
¼ c. apple juice (I have substituted pineapple juice and we actually prefer it this way!)
⅓ c. light brown sugar
2 T ketchup
1 tsp cider vinegar
1 tsp balsamic vinegar
½ c. water
⅓ c. soy sauce
Instructions
Heat oil in a large skillet. Add chicken pieces and cook until lightly browned. Remove chicken.
Add remaining ingredients to create sauce, heating over medium heat until well dissolved. Add chicken and bring to a hard boil. Reduce heat and simmer for 20 minutes. I always add cornstarch and water at the end to thicken.
Serve over hot rice.
Since it had been awhile since I had made this, I followed the recipe exactly and used the apple juice. I felt like the combination of cider vinegar and the apple juice was overkill and I remembered that in the past, I have used pineapple juice and we have liked it a lot more because it has been tangy! You can also use orange juice if you have some on hand! I also recommend doubling the ingredients for the sauce because it's SO yummy and you want to have plenty of it!
Looking for more recipe ideas? Make sure you check out my Menu Planning Monday posts here–> Menu Planning Monday