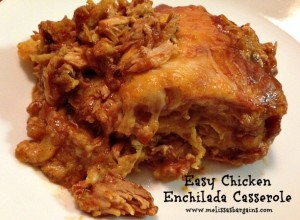 When it comes to cooking, I love recipes that are easy and kid friendly and this one definitely fits in both areas!  We love enchiladas, but sometimes I don't have time to actually roll them and wait for them to cook.  This is a great quick fix for busy nights!  I sometimes will cook the chicken overnight and assemble the casserole before I go to work in the morning so I just have to throw it in the oven when I get home!
See more recipes here–> Recipes
Easy Chicken Enchilada Casserole
Author:
Melissa's Bargains
Prep time:
Cook time:
Total time:
Quick and easy enchiladas!
Ingredients
2-3 boneless, skinless chicken breasts
1 large can red enchilada sauce
12 corn tortillas
shredded cheese – I use reduced fat
Instructions
Place the chicken breasts in the bottom of a slow cooker and cover with enchilada sauce. Cook on low for 6-8 hours.
Shred chicken breasts.
Pour some enchilada sauce along the bottom of a casserole dish.
Cut corn tortillas in quarter-size pieces (I use a pizza cutter to do this). Place a layer of corn tortillas along the bottom, cover with the sauce and chicken mixture, and then add cheese. Continue layering until you have used all of your tortillas and cheese.
Bake at 350 degrees for 15-20 minutes until the cheese is bubbly. When you remove it from the oven, allow it to set for about 5 minutes and then cut and serve.