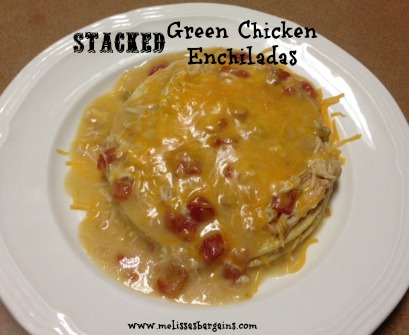 Enchiladas of ANY kind are always a hit in my house!  My dad used to make these stacked green enchiladas when I was growing up and I took his recipe and modified it so I could make it in the slow cooker.  I love it because it's a quick fix when I have a craving for enchiladas and it's not as time consuming to make as other enchiladas!
See more recipes here–> Recipes
Here's the recipe:
Stacked Green Chicken Enchiladas
Author:
Melissa's Bargains
Prep time:
Cook time:
Total time:
Easy quick fix chicken enchiladas
Ingredients
1 can green enchilada sauce
1 can cream of chicken soup (I use 98% FF)
1 can Rotel (drained)
3-4 chicken breasts
corn tortillas (one dozen)
monterrey jack cheese
Instructions
Place the chicken breasts, enchilada sauce, cream of chicken soup, and Rotel in the crockpot on low for 6-8 hours (or longer..I have been able to leave this one all day!)
Shred the chicken.
If you are doing stacked enchiladas, pour some of the chicken mixture on a corn tortilla, then sprinkle cheese and repeat for as many layers as you would like!
If you would rather have your traditional rolled enchiladas, place some of the mixture and some cheese in a corn tortilla, roll, and place in the pan.
Pour the remaining sauce mixture over the top and top with cheese and bake at 350 for 20-30 minutes until the cheese is golden and bubbly.