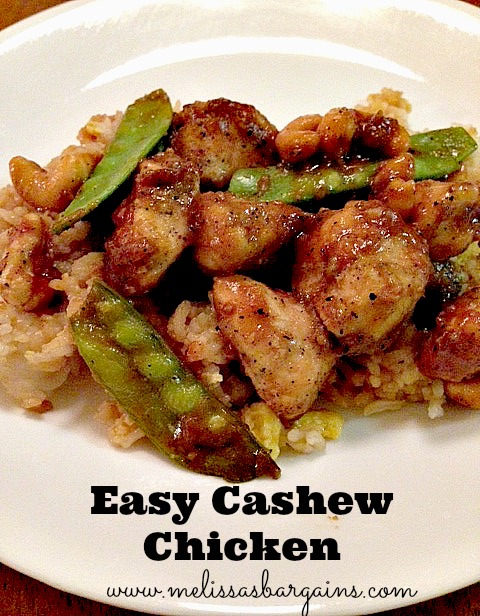 My family LOVES Chinese take-out, but I don't love the prices, especially right now when we're really focusing on sticking within our budget.  One night of take-out would blow half of our eating out budget for the month!  I tested out this recipe for Easy Cashew Chicken last night, and it was a HIT with my entire family.  My daughter commented that it tasted just like take-out, which made my night!  We'll definitely be making this one again!
Easy Cashew Chicken
Author:
Melissa's Bargains
Prep time:
Cook time:
Total time:
Easy Cashew Chicken Recipe – tastes just like take-out!
Ingredients
2 lbs boneless skinless chicken breasts (cut into pieces)
¼ cup flour
½ tsp black pepper
3 Tbsp olive oil
¼ cup soy sauce
2 Tbsp rice vinegar
2 Tbsp ketchup
1 Tbsp brown sugar
1 garlic clove, minced
½ tsp grated fresh ginger
½ cup cashews
8 ounces snow peas (trimmed)
Instructions
Place chicken, flour, and pepper in a large Ziploc bag. Shake to coat.
Heat olive oil in a large skillet over medium heat. Add chicken and brown.
While the chicken is cooking, combine the soy sauce, vinegar, ketchup, brown sugar, garlic, and ginger. Mix well.
Once the chicken is thoroughly cooked, add the sauce mixture and cashews. Then place the snow peas over the top.
Cover and simmer on low for 15-20 minutes.