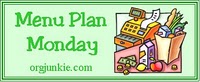 I'm back in town after an AMAZING blogging conference that has left me inspired and ready to make lots of great changes to my site!  In the meantime, I haven't gone grocery shopping in almost 2 weeks and struggled to throw together a menu plan this morning based on things that we, for the most part, already have around the house!
If you're new to menu planning or would like tips for getting started, check out this post here–> Tips for menu planning
See my menu plans from previous weeks here–> Menu Planning Monday
You can also view hundreds of meal plans each week at Orgjunkie.com
Make sure you also check out my favorite recipes board on Pinterest:
MONDAY: Baked chicken chimichangas – I have been wanting to try this recipe for a LONG time and it seems like every time I plan to make it, something comes up.  Hopefully today will be the day!
TUESDAY: Smashburger – There is a grand opening for a Smashburger in my area and I get to attend, so free dinner!  I haven't tried it yet, but I'm so excited to check it out!
WEDNESDAY:  Slow cooker Chile Colorado Burritos – I made this for the first time several months ago and the whole family SERIOUSLY loved it!  The picture doesn't do it justice.  It's so easy to throw together, too, and perfect for a summer day when you don't want to turn the oven on!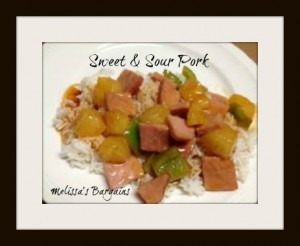 THURSDAY:  Sweet & Sour Pork – Super easy to make and kid friendly, too!
FRIDAY:  Bubble Pizza  – I made a version of this several years ago, but this is a new recipe for me (courtesy of Pinterest, of course!) and I can't wait to try it!
SATURDAY:  Tasty Baked Tacos – I love this recipe because it's EASY!  My kids love it because they think it's yummy!  It's a win-win!
*This post may contain affiliate links. Please refer to my disclosure policy for more information.