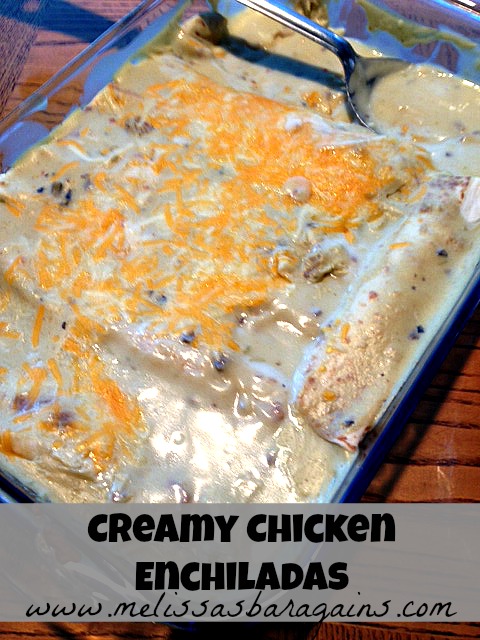 I was born and raised in a border town in Texas and as a result I LOVE, LOVE, LOVE Mexican food and enchiladas are right there at the top of my list!  This Creamy Chicken Enchiladas Recipe is one that I came up with when I was in college and I've tweaked a few times through the years.  It's my go to recipe if I need to take a meal to a potluck or other gathering and I also joke that it's the real reason my husband fell in love with me!  It's easy to make and kid friendly!  My family loves it!
Creamy Chicken Enchiladas Recipe
Prep time:
Cook time:
Total time:
Easy and kid friendly chicken enchiladas recipe
Ingredients
1 can cream of chicken soup (I use the 98% Fat Free kind)
1 can cream of mushroom soup (I use the 98% Fat Free kind)
2 cans green enchilada sauce (the small cans or 1 big can)
1 8 oz-16 oz. tub of sour cream (depends how spicy you want the enchiladas)
2-3 chicken breasts, shredded
8 oz cheese, shredded
1 dozen flour tortillas (you could use corn also)
Instructions
I usually put my chicken breasts in a slow cooker with another can of green sauce and cook it on low for 6-8 hours. It makes them easy to shred and gives them extra flavor. If you do this, you will need 3 cans of enchilada sauce instead of 2.
Preheat the oven to 350 degrees.
Add cream of chicken soup, cream of mushroom soup, and enchilada sauce to a pan. Cook on medium low heat, stirring occasionally. When sauce is will mixed and starts to thin, add sour cream.
Continue stirring occasionally until the sauce is well mixed and starts to thin out.
Place a layer of the sauce along the bottom of a 9X13 baking dish.
Fill each tortilla with the shredded chicken, a spoonful of sauce, and cheese. Roll and place in the baking dish.
When you have filled all of the tortillas (this should make 1 dozen), pour the remaining sauce over the top of the enchiladas and then cover with cheese. Bake at 350 degrees for 25-30 minutes until the cheese is well melted.