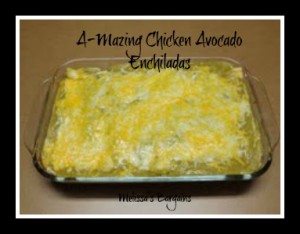 I LOVE avocados and I pinned this recipe on Pinterest a few months ago because it sounded so yummy.  I made it for my family tonight and I loved that my picky eaters asked for seconds!  I didn't tell them that the secret ingredient was avocados, but I thought it was kind of funny that they raved about how much they loved the "special sauce" because they ordinarily won't touch anything with avocados.  My 5 year old son actually said it was one of the "bestest meals he's ever had in his life."
I found the original recipe here, although I modified the ingredients quite a bit to make them easier to make and used ingredients that I thought would be more "family friendly" for my family–> Chicken Enchiladas with avocado cream sauce
Here's my version:
A-MAZING Chicken Avocado Enchiladas!
Author:
Melissa's Bargains
Prep time:
Cook time:
Total time:
The sauce on these chicken avocado enchiladas is so amazing you'll be licking your plate clean!
Ingredients
3-4 boneless, skinless chicken breasts
1 can cream of mushroom soup
1 can green enchilada sauce
12 flour tortillas (you could also use corn instead)
2 cups shredded cheese
The Sauce:
2 T butter
2 T flour
2 cups chicken broth
¾ cup sour cream
½ tsp salt
½ tsp garlic powder
¼ tsp pepper
2 California avocados (peeled and pitted)
½ cup chopped cilantro
juice of one lime
1 cup Herdez green salsa
Instructions
Place chicken breasts, cream of mushroom soup and enchilada sauce in a slow cooker and cook on low for 6-8 hours. Shred the chicken and mix it back into the sauce mixture. This is the filling for your enchiladas!
Fill each tortilla with a spoonful of the chicken and sauce mixture and some cheese, roll, and place in a greased 13X9 baking pan.
For the sauce:
Melt the butter in a skillet over medium high heat. Add the flour, and whisk until bubble. Add the broth to the flour mixture and whisk again. Bring to a boil and then reduce heat to low and let simmer for 5 minutes. Stir in the sour cream, salt, garlic powder and pepper, whisking if necessary to remove any lumps.
Remove from heat and transfer to a blender. Add the avocados, cilantro, lime juice, and Herdez salsa (this is to taste and you may want to add more). Pulse until smooth and well-blended. Since you're working with hot liquids, the heat will cause them to expand, so make sure you remove the lid occasionally to allow the heat to escape.
Cover the rolled enchiladas with the sauce, sprinkle cheese over the top, and cook on 350 for 25-30 minutes until the cheese is bubbly.
Looking for more recipe posts?  Check out my Menu Planning Monday posts here for meal planning ideas–> Menu Planning Monday