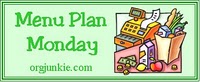 Can you say CRAZY BUSY WEEK?  That is the best way I can think of to describe this one!  We've got something EVERY night (and some nights we have more than one thing!)  We're also expecting another cold front.  Depending on where you live, this may not seem like a very big deal, but here in Texas it was 75 yesterday and it's expected to be in the 20s tomorrow!!  I've tried to combine a mixture of comfort foods and slow cooker or quick fix meals to hopefully make this all work.  I'm also on my second week of the Advocare 24 Day Challenge, so I needed "healthy" recipes that fit within those parameters!
Here are some of my 24 Day Challenge menus from my previous challenge:
See my menu plans from previous weeks here–> Menu Planning Monday
You can also view hundreds of meal plans each week at Orgjunkie.com
Do you like what you see here?  Make sure you also check out my favorite recipes board on Pinterest–> Melissa's Bargains favorite recipes on Pinterest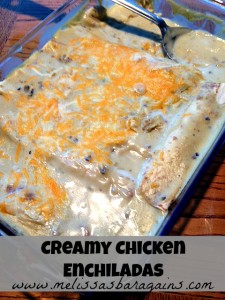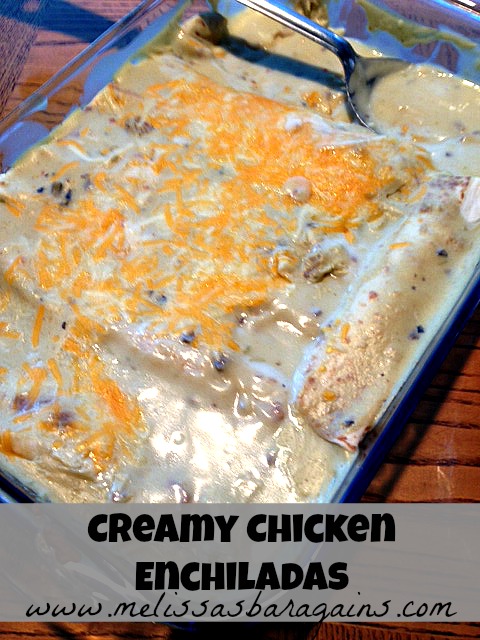 SUNDAY:  Creamy chicken enchiladas – My husband's birthday is actually tonight, but we celebrated on Sunday because I was going to be home long enough to actually cook!  This is one of his favorite meals and it's a family favorite, too!
MONDAY: Eat out – today is my husband's actual birthday, so we're going to try to fit eating out somewhere in between the other things we have going on today!
TUESDAY:  Slow Cooker Pepperoni and Chicken – This is a new recipe for me.  I'm looking forward to trying it out because it has ingredients I know my kids will like, it's low calorie, and I can make it in the slow cooker!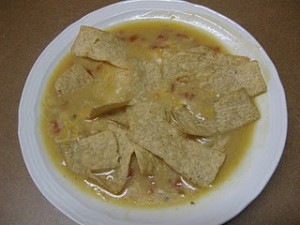 WEDNESDAY:  Tortilla Soup – Yes, if you follow my menu planning posts, we actually had this one last week, too, but given those cold temperatures that I talked about earlier and the fact that this is a family favorite, it's going on the menu again!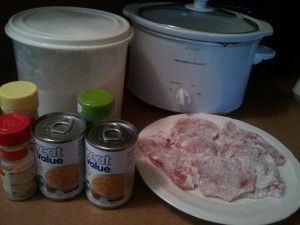 THURSDAY:  Slow Cooker Chicken Lickin' Good Pork Chops – This is ANOTHER family favorite and SO easy to make!  I love it when my slow cooker does all the hard work and we have a yummy meal waiting for us when we get home!
FRIDAY:  Slow Cooker Turkey Chili – I have promised myself that I would blog this multiple times now, and it seems like every night when we actually eat this, we're in such a hurry and I never get around to it!  This is another favorite that's super easy!
SATURDAY:  Italian Green Beans and Chicken Bake  – this is an easy, "go to" recipe for us!  One week, I decided to try Kraft Fat Free Zesty Italian dressing to lighten things up and it became a favorite!
What's on YOUR menu plan this week?