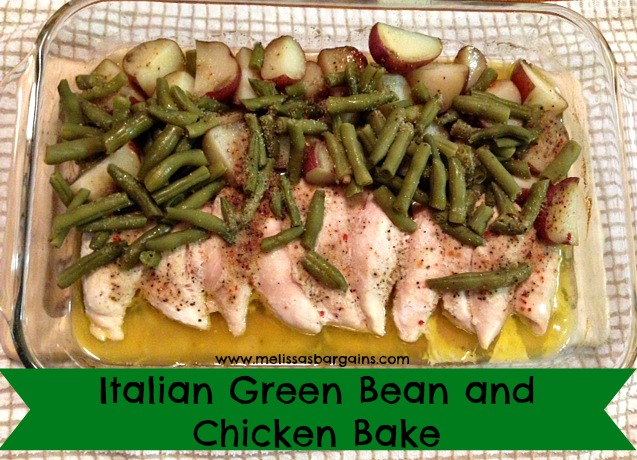 I'm always on the look-out for family friendly, quick and easy recipes to add to our monthly menu rotation. I have had this recipe pinned on Pinterest for quite some time now, and finally got around to making it! It was SUPER easy to throw together and my kids and my husband loved it. The chicken was so tender and everything had great flavor!  Plus, I love that it's basically an all inclusive meal!  It was deemed a "keeper" for us!
NOTE:  To lighten this up, use Kraft Fat Free Zesty Italian Salad Dressing instead of the butter and dressing mix.  My family actually likes it better this way!
See more of my favorite recipes here–> Melissa's Bargains Favorite Recipes on Pinterest
Italian Green Beans and Chicken Bake!
Prep time:
Cook time:
Total time:
Ingredients
4-6 chicken breasts
4-6 red potatoes (cut into quarter-size pieces)
1 can green beans, drained (or fresh if you prefer)
1 stick butter or margarine, melted
1 packet Italian dressing mix
Instructions
Place the chicken breasts across the center of a 9X13 baking dish.
Layer the red potatoes along one edge of the baking dish.
Layer the green beans along the opposite edge of the baking desk.
Sprinkle the Italian dressing mix over the top of everything.
Pour a stick of melted margarine or butter over everything.
Cover with foil and bake at 350 degrees for 1 hour.
DISCLAIMER:  I found this image and basic direction as a pinned image on Pinterest.  Although I have searched, I was unable to locate the original post to provide credit.  The recipe listed above is my interpretation and all images are mine.